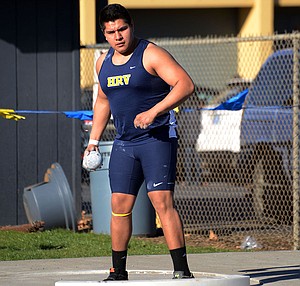 Junior Sebastian Barajas is continuing on his quest to become what HRV track and field coach Donnie Herniesen calls "the most dominant thrower in the history of HRVHS," after breaking yet another school record, this time in shot put.
During Tuesday's dual meet at Hermiston, Barajas threw the 51 feet, 10 inches, breaking the previous record set in 2013 by Eli Fults of 51-2. Before that, the shot record hadn't been broken in over 30 years. After breaking the school's discus record a couple weeks ago, Barajas now holds both the shot and discus records.
In general, Herniesen said the meet produced weather that "was really not conducive to great marks for most of our athletes," noting that the "kids were frozen and wind blasted." He noted that short sprinters Jestena Mattson on the girls team and Parker Irusta on the boys team, "continue to lead our sprints group and rank at or near the top of the 5A sprinters in Oregon."
Mattson had a season-best time of 12.26 seconds in the 100 meter, which was good for first place, and helped lead the team to wins in both the 4x100 meter and 4x400 meter relays along with teammates Emily Viuhkola, Kassidy Davidson, Maya Anderson (4x100), and Audrey Marble (4x400).
Parker Irusta also had a good day in the 100 meter, setting a personal record of 11.34 and placing second. He placed first in the 200 with a time of 23.49 and competed in the 4x100 with Irvin Castillo, Tyrone Stintzi, and Irusta; the team placed second with a time of 44.72.
After hosting the annual Blossom Invitational Friday (meet had not been run by press time), HRV travels to The Dalles to face The Dalles and Dufur at 3:30 p.m.
Latest stories
Latest video:
Sixth Annual Harvest Fest Pie Eating Contest
The sixth annual Pie Eating Contest at Hood River Harvest Fest is sponsored by the Chamber of Commerce and HRVHS youth service group Leaders for Tomorrow. HRVHS student Dylan Polewczyk won the 1-minute fruit-pie eating event. Key rule, as stated by Chamber President Jason Shaner, "You have to eat the pie, you can't just dislocate it. We will be checking for pie dislocation." Enlarge