Wednesday, December 21, 2016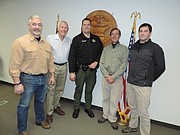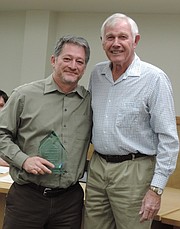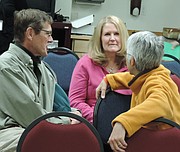 Transitions in three layers took place Monday the Hood River County administration building.
Maui Meyer had his last meeting as a commission member, finishing up 12 years in the position, but he will stay involved.
John Harvey took the oath as Justice of the Peace in the Cascade Locks Justice Court. Harvey, a Hood River County deputy, will serve his last shift in uniform on Dec. 31.
Rich McBride, who is also a Port of Hood River Commissioner, was sworn in Monday to Maui's seat, along with commission incumbents Les Perkins and Chairman Ron Rivers. All that took place before the board's work and business sessions, and near the end of the business meeting, Meyer drew a laugh from commissioners and staff by saying, "Send it!" in a humorous approach to a meeting formality: passage of the consent agenda.
"You have been a true asset to the county," Chairman Ron Rivers told Meyer during a brief retirement and swearing-in reception just prior to Monday's Commission session and board meeting.
Meyer announced that he will retain a portion of his duties he fulfilled on behalf of the county government by serving on the Governors Rural Solutions Team not as a commissioner, but in a private capacity.
"I will stay on as a business owner," said Meyer, a part-owner of Copper West Properties and Celilo Restaurant.
Harvey, of Mt. Hood, was accompanied at the swearing-in by his wife, Rachel, and their children, Emma and Evan. Harvey will depart the Sheriff Department on Dec. 31. He takes office Jan. 3 and will preside in court for the first time on Jan. 6.
"It's exciting. I know I have plenty to learn," he said.
More like this story
Latest stories
Latest video:
Advertisement: The Men of Black Friday
The secret agents of Big Winds may not exactly be Tommy Lee Jones oand Will Smith, but they still discovered there is plenty of strangeness to be found in Hood River...especially once winter sets in. Enlarge