The annual Kiteboarding 4 Cancer (KB4C) event returns to the Hood River Waterfront July 15-17, and with this year's event comes a significant milestone.
This will be the 10th running for KB4C: part kiteboarding contest, part fundraiser, part community party, and part celebration of life.
The event was started by Hood River's Tonia Farman as a way to honor her little brother, Scott Farman, who passed away in June 2007 at the age of 19 after a 13-month battle with leukemia. A few months later, Farman, with the help of her friend Garret Zallen, a pediatric surgeon at Doernbecher Children's Hospital in Portland, helped organize the event, which helps raise money for cancer patients and survivors by way of a kiteboarding endurance race.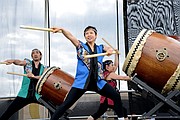 Originally, Farman said she "set expectations low," hoping to raise $5,000 through pledge money. On Aug. 25, 2007, though, 85 athletes turned out for the inaugural event and raised $30,000. Since then, the celebration has grown into the largest amateur kiteboarding festival in North America, with last year's event featuring 210 athletes and a fundraising total of $127,000. Farman's goal for the 10th running is to raise $169,000.
"I think we can do it," she says.
The money raised by athletes goes to Camp Koru: an adventure retreat program for both cancer fighters and survivors ages 18-39. The camp is run through KB4C's parent nonprofit, Athletes 4 Cancer, which Farman co-founded and currently manages as its executive director. Participants in the program get to go on outdoor adventures, such as snowboarding on Mount Hood or stand up paddling in Hawaii, helping them heal and get their lives back together after dealing with cancer.
The endurance race is arguably the most well-known aspect of KB4C. The mass start at the event is breathtaking, with a swarm of colored kites and bright shirts tearing across the Columbia River toward the Hood River Event Site and the stentorian pounding of Japanese Taiko drums, while throngs of people cheer them on from shore. Many participants have teams to help complete the six-hour race, but some hardcore individuals do it all on their own.
But, the event is more than just the endurance race. Things start Friday with a community and athlete waterfront dinner at the Event Site, which includes live music; there is also a kickoff party and fundraiser in Dakine's back parking lot near the Waterfront. The event begins in earnest on Saturday, and along with the race, there is the annual Boards of Hope Auction, where old kiteboards, surfboards, snowboards, skateboards, or skimboards are recycled and turned into works of art, then auctioned. Boards of Hope serves as a tribute to her brother, whom Farman said turned to art while he was confined to the hospital during his cancer treatments. A beer garden will be available and live music will also be going on.
For Sunday, windsurfing neophytes compete in a Never-Ever-Kiteboarded-Before "Race," while those more familiar with the sport compete in the Relay-on-the-Green event. There's also plenty more live music, food, beer, and kids' activities. There is also a waterfront yoga class in the morning.
"With this year being our 10th anniversary, we are turning up the entertainment a notch, adding some visual features highlighting the 10 years of the event, and adding more unique wind-themed art projects to the Kids Art Area," Farman says. "With the support of Full Sail Brewing, we are hosting a huge 10th anniversary party to recognize top fundraisers and sponsors over the years that is open to the public on Friday, July 15."
KB4C continues to grow both in participation and in scale (at last year's event, Farman hovered above the Event Site in a helicopter that she used to observe the field of derby participants), but Farman isn't surprised at its popularity. Everyone knows someone affected by cancer, she notes.
"I am not surprised, but I am very grateful for all the support that this event receives each year from individuals and businesses, especially here in the Gorge," she says. "On top of the monetary or in-kind support that is so important to putting on this huge event, individuals and businesses also give their time to help make the event happen. The Gorge is an amazing community like that."
For more information on the event, head to kiteboarding4cancer.org.
Editor's note: Portions of this story appeared in the Summer 2016 edition of The Gorge Magazine.
More like this story
Latest stories
Latest video:
Advertisement: Local Appreciation Sale at Big Winds