Elizabeth Munoz, a senior at Hood River Valley High School, and Roger Marines, a sophomore at South Wasco High School, have been selected as Hood River and Wasco county winners for the 2016 Congressional Art Competition. U.S. Rep. Greg Walden (R-Hood River) made the announcement recently.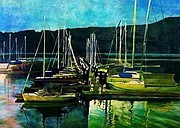 In a record year for entries, "Family Time" and "Ripples in the Water" were ranked highly by a panel of judges, including Hood River artists Cathy Stever, owner of the Cathy Stever Gallery, and Mark Nilsson, owner of the Mark Nilsson Artist Studio. Munoz and Marines' artworks will hang in Walden's office in Hood River.
"I want to congratulate Elizabeth and Roger on this impressive achievement in such a competitive year," said Walden. "'Family Time' and 'Ripples in the Water' are testaments to their artistic talent, and they should be very proud of this accomplishment."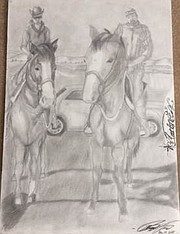 The overall winner for the Congressional Art Competition, Sage Hassell, a senior at Mountain View High School, will travel to Washington, D.C., to see her artwork displayed in the national student art exhibit in the U.S. Capitol and attend a reception in her honor on June 23.
"The Congressional Art Competition is a tremendous opportunity for young Oregonians interested in art, and I want to thank all of the students, teachers, and families who made this year's competition a success," Walden said. "I would also like to thank our 14 judges from around Oregon's Second District for their expertise in judging over one hundred pieces of our talented students' work."
The Congressional Art Competition is a nationwide program for students to showcase their artistic abilities and to highlight the importance of art education. Since its start in 1982, more than 650,000 high school students from around the country have participated. Photos of the winners and more information on the competition can be found via Walden's website at walden.house.gov/art-competition.

Judges for this year's competition included: Rogue Gallery & Art Center Board Member Nancy Jo Mullen and Executive Director Kim Hearon; Central Oregon Community College Art Professor Bill Hoppe; former Jackson County Commissioner and high school art teacher Sue Kupillas; Associate Professor of Art at Eastern Oregon University Michael Sell; Southern Oregon University Professor of Art Peg Sjogren; Southern Oregon University Professor of Painting and Drawing Cody Bustamante; Fine Arts Professor at Treasure Valley Community College Robin Jackson; Treasure Valley Community College Photography Instructor Ted Fink; Treasure Valley Community College Visual Arts Professor Tammy Kinney; Betty Faves Memorial Art Gallery Director Lori Sams; Artist and Owner of Phinney Gallery of Fine Art Malcolm Phinney; Mark Nilsson, artist and owner of Mark Nilsson Artist Studio; and Cathy Stever.
More like this story
Latest stories
Latest video:
Advertisement: The Men of Black Friday
The secret agents of Big Winds may not exactly be Tommy Lee Jones oand Will Smith, but they still discovered there is plenty of strangeness to be found in Hood River...especially once winter sets in. Enlarge