Saturday, November 26, 2016
Oregon Department of Transportation has found a light at the end of the tunnel in its endeavor to fully restore the Historic Columbia River Highway as a single trail.
The Federal Lands Access Program in early November awarded ODOT a $28 million grant to complete a crossing at Mitchell Point, a rocky cape west of Hood River, which has been an expensive hurdle in the project.
Transportation agencies have been piecing together segments of the old Highway 30 over the last few decades, repurposing it as a pedestrian and bike trail that will one day run 73 miles through the Columbia River Gorge.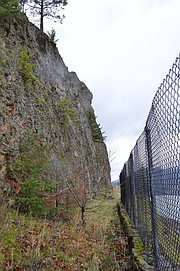 ODOT will be working with partner agencies — including Oregon Parks and Recreation Department, the U.S. Forest Service, and Federal Highway Administration — to design and construct a safe crossing around the daunting Mitchell Point.
Federal funds will allow the agencies to wrap up designs for a five mile stretch of the trail, and build connections from the west to Perham Creek, and east of Mitchell.
Kristen Stallman, ODOT Columbia River Gorge National Scenic Area coordinator, applauded the news but said the agency's work is far from over.
"With the engineering funding secured, we are oh-so close to completing our vision of creating a world class experience between Troutdale and The Dalles," Stallman said in a November progress report.
"Even with this substantial funding, we still have more fundraising to do to connect the trail between Viento and Hood River. Stay tuned; 2017 is going to be an exciting year in the Gorge."
Mitchell Point's rocky terrain poses a challenge. The spire peeks into the sky about three miles west of Hood River, with a rough trail accessible from Interstate 84, exit 58, in the Wygant State Natural Area. It has two peaks: the point itself and the lower Mitchell Spur.
It's still unclear if the crossing will include a tunnel through Grande Ronde basalt, similar to the now-demolished Mitchell Point Tunnel the original highway boasted.
ODOT carried out a feasibility study in 2015. According to that report, four general options are on the table:
• Drilling and blasting a horseshoe shaped tunnel, starting north of the Mitchell Point trailhead and ending on the east side of its expanse.
• Squeezing a rock shelf where the old highway ran, supplemented by either a land bridge or small tunnel.
• A series of overland switchback trails in the saddle between Mitchell's two major cliffs, skirting the rockiest formations.
• Building a path at the Columbia River shore level, parallel to I-84.
Most expensive: The overland trail option with a rock cut, at an estimated $22 million, and the tunnel at $17 million. The I-84 path would be cheapest at $8 million.
The original highway's tunnel hewed straight through lower Mitchell Point, according to a historical report included in ODOT's study.
In 1915, architect John Arthur Elliot built a viaduct and bore through the spur to achieve the most direct route possible, replacing a notorious wagon route.
By 1953, larger vehicles had rendered the tunnel obsolete, and unstable rock had made it too dangerous. It was demolished to make way for I-84 during a widening project in 1966.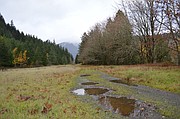 U.S. Hwy. 30 celebrated its 100th birthday this year, with ODOT and partner agencies doubling down on their work to restore it as a trail. The most recent piece, dedicated in September and fully opened shortly after, was the waterfall stretch from Starvation Creek to Lindsey Creek.
Knud Martin, FHA project engineer, said Wednesday the Starvation Creek portion is complete, while work on the next trail segment — from Lindsey Creek to Wyeth — will wait until spring.
"The next HCRH trail section from Wyeth to Lindsey Creek, which connects to this just completed section of trail, is tentatively planned to start construction in March of 2017," Martin said in an email.
ODOT crews have also been working on the right shoulder of I-84 eastbound at milepost 61, on a rock fall abatement project. That work is scheduled to wrap up in late November.
Latest stories
Latest video:
Advertisement: The Men of Black Friday
The secret agents of Big Winds may not exactly be Tommy Lee Jones oand Will Smith, but they still discovered there is plenty of strangeness to be found in Hood River...especially once winter sets in. Enlarge