Originally published April 15, 2017 at 12:00a.m., updated April 15, 2017 at 12:00a.m.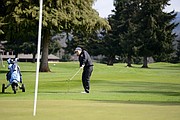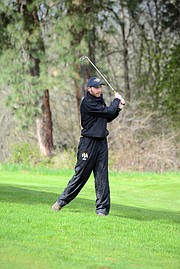 The HRV boys and girls golf teams hosted their only match of the season this year, fitting in 18 holes between the rainclouds Monday at Indian Creek Golf Course in Hood River.
The girls placed second out of three full teams in attendance, compiling a score of 466, behind first-place Hermiston (429) and ahead of The Dalles (555). Amy Webber had the best day for the Eagles, going under 100 with a score of 98.
Carly Wyatt was next with a 115, Sara Hamada carded a 121, and Victoria Erin shot a 132. Pendleton's Haley Greb was light years ahead of the competition for the girls, carding a 66, which HRV Head Coach Mark Gradin said may have been a women's course record (Gradin had not confirmed this as of press time).
The HRV boys do not have a complete team this season, so they did not have a team score. The Dalles took first (325), followed by Pendleton (345) and Goldendale (390).
Alden Gendreau was the top finisher for HRV (133), finishing ahead of Conrad Nielsen (150) and Jake Page (156). The Dalles' Tyler Vassar earned medalist honors for the boys, shooting a 77.
More like this story
Latest stories
Latest video:
Advertisement: The Men of Black Friday
The secret agents of Big Winds may not exactly be Tommy Lee Jones oand Will Smith, but they still discovered there is plenty of strangeness to be found in Hood River...especially once winter sets in. Enlarge