Saturday, August 12, 2017
Simple rocks become works of art and messages of joy in the hands of Parkhurst Place Assisted Living residents and staff.
And now, anyone can join in, as residents and staff are inviting the community members to come in and paint rocks.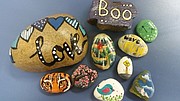 "Rock Painting and Exchange" happens Monday, Aug. 14 at 6 p.m. at Parkhurst Place, 2450 May St., Hood River. The opportunity happens on the second Monday of each month.
Bring a rock or two and your ideas, and Parkhurst provides the paint. Leave your rock or take it with you, or exchange it for another.
Once the rocks are painted, they are placed out in the community for people to find. They are then asked to post their finds on the #HoodRiverRocks FB page.

"It's a way to spread community happiness, create exercise for individuals and family members and it's just pure fun," said Terri Hansen of Parkhurst. The rocks have been donated by Hood River Sand and Gravel.
Staff and residents hide them in the community on a weekly basis, on personal time or during Parkhurst-sponsored outings.

"Some of the places to look for them are the Hood River Waterfront, local stores, businesses, parks, parking meters downtown and many other fun places to spread smiles, warm wishes and art," Hansen said. "It's art abandonment at its finest!"
Contact Parkhurst Place for more information at 541-387-4600.
More like this story
Latest stories
Latest video:
Advertisement: Local Appreciation Sale at Big Winds