Originally published February 25, 2017 at 12:00a.m., updated February 25, 2017 at 12:00a.m.
Housing and public park needs took center stage at a Hood River Planning Commission meeting Tuesday night, where concerned residents packed council chambers at city hall in a standing room only hearing.
About 37 speakers weighed in on a proposal to rezone Morrison Park in order to make way for affordable housing construction. Testimony was divided, with well over a dozen people representing each side of the issue — for and against.
The debate centered on the City of Hood River's request for a zone change at a 5-acre parcel — known as Morrison Park — from Open Space/Public Facilities (OS/PF) to Urban High Density Residential (R-3) in order to allow for housing development at the site, located at Wasco Street and 20th/Jaymar Avenue.
The wooded piece of land has served as a disc golf course for more than a decade. The property has also been eyed for housing development for years. Much of the parcel remains undeveloped.
Proponents of the zone swap argued it would be a rare chance to open up land for much needed affordable housing, city council's top stated goal priority.
Opponents generally recognized Hood River's housing crunch but asserted that Morrison Park makes for a poor site. They felt Morrison should remain a park-like natural area.
How to comment
Visit www.cityof hoodriver.com and scroll halfway down the page to read details on the Morrison Park rezone proposal and to present comments. Planning commission decided this week to extend the written comment period. Comments will be accepted until March 1, with a rebuttal period from March 3 to March 10. A follow-up hearing is scheduled for April 17.
Cindy Walbridge, city planning director, responded to critical comments on rezoning "Tax Lot No. 700."
"Since the private sector cannot provide low cost land or developments, public sector investment is required … or we will be forced to accept that we cannot accommodate all the city's workers, and they must live elsewhere," Walbridge said in a written statement.
Walbridge refuted claims that the rezone is illegal, explaining city council has the right to rezone its own lands. That requires a decision based on the city's Comprehensive Plan.
Joel Madsen, Mid-Columbia Housing Authority executive director, followed Walbridge by stressing the need for such projects. Via early plans, Mid-Columbia would partner with the city to develop the affordable housing units.
Brian Watts, a building contractor, agreed and said, "I couldn't imagine a better spot for it."
Leticia Valle, of The Next Door Inc., sported a red bandanna, a color that a group of residents wore to emblematize their support for such housing options.
"I trust that we all agree hard working families should be able to afford housing in the communities they work and still have enough money for groceries and other basic necessities," Valle said, and she noted the site's proximity to transportation routes.
On the other side, testimony highlighted a need for parks and decried the selection of Morrison Park. They said the site has historically been used as a natural space.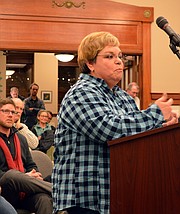 Darryl Lloyd, a photographer, showed a PowerPoint presentation documenting the natural scenery and wildlife habitat at Morrison. "I never realized until recently what a gem this is," Lloyd said.
Deborah Snedecor, who described herself as a third generation Hispanic American from a lower income home, said the rezone would take away green space enjoyed by people of all income levels.
"One of the things that attracted me to Hood River was the beauty, the greenery," she said.
Scott Baker said, "There is a better way," such as other tools like inclusionary zoning, to encourage housing projects. Baker, who was formerly assistant director for Hood River Valley Parks and Recreation District, also said, "The disc golf course is heavily used," based on doggy bags collected at the site.
Some speakers challenged the impartiality of Planning Commissioner Tina Lassen.
At the meeting's outset, City Attorney Dan Kearns asked the five present commissioners to note any experiential knowledge or prejudgment.
Lassen acknowledged that she had taken part in an advocacy group called Livable Hood River as a private citizen. She also wrote a letter to the editor of the Hood River News based on housing.
However, Lassen said once she was appointed to the planning commission, she studied the city's rules and was ready to make an unbiased decision based on facts and testimony. "I do believe I can look at this with fresh eyes," Lassen said.
Planning Commissioner Casey Weeks, however, motioned for the board to disqualify Lassen out of concern that her "potential for bias" could become legally problematic for the city during future proceedings, such as an Oregon Land Use Board of Appeals case.
Weeks made a motion to disqualify Lassen, but it died for lack of a second.
Kearns told commissioners they are charged with making a recommendation to city council, not a final legislative decision. That means by LUBA's guidelines "any (potential) error would be cured by the city council's hearing and deciding of the matter."
After more than two hours of testimony, the panel accepted requests to extend the hearing and leave the record open for more written evidence. The follow-up hearing, when the panel will decide on a recommendation to give city council, is slated for April 17.
Latest stories
Latest video:
Advertisement: The Men of Black Friday
The secret agents of Big Winds may not exactly be Tommy Lee Jones oand Will Smith, but they still discovered there is plenty of strangeness to be found in Hood River...especially once winter sets in. Enlarge