A bill targeting safety plans for oil spills failed to pass before the Oregon Legislature adjourned its 2017 session Friday.
House Bill 2131 would have required railroads to submit emergency response and contingency plans related to hazardous material spills to state regulators, namely the Oregon State Fire Marshal and Oregon Department of Environmental Quality.
The bill emerged the year after an oil train derailed, caught fire, and spilled crude oil in Mosier in June 2016.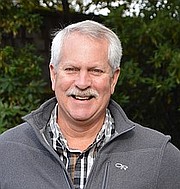 The legislation did not resurface after lawmakers sent it back to the committee stage June 30 — a week before the session wrapped up — due to concerns over public transparency.
Local governments backed the originally drafted version of the bill, which was sponsored by Rep. Barbara Smith Warner (D-Portland). In February, Hood River City Council, Mosier City Council, and Hood River County Board of Commissioners sent letters to legislators urging them to pass it.
"As last summer's derailment in Mosier shows, our community is at risk from another oil or high hazard train accident. This bill adds protection and insurance that is needed," the City of Hood River's letter said.
Controversy emerged after policymakers amended the bill in May with transparency restrictions. Certain information related to oil spill plans would have been exempt from public disclosure or court subpoena.
A last-minute shuffle of action on the House floor led to the bill's withdrawal. A video recording shows that Smith Warner asked the House to withdraw the bill and send it back to the Joint Ways and Means Committee. She said the "language on confidentiality goes too far."
She refuted an Oregonian/OregonLive article that she said reported legislators sought to hide oil train safety plans from the public. She said, instead, the goal was to make the bill compliant with federal laws.
Rep. Mark Johnson (R-Hood River) and Rep. John Huffman (R-The Dalles) called for a vote on the bill without sending it back to committee. Johnson said, "My fear is that (if) this bill goes back to committee … it has a very uncertain pathway through this legislature."
The House voted to send the bill back to committee.
Johnson expressed disappointment that the bill failed.
"It's too bad, it's a great bipartisan work," Johnson said Monday.
Johnson said the transparency piece of the legislation addressed a "real problem for public safety" and provided confidential information for public safety officials and first responders.
United States transportation officials are expected to release updated federal rail safety standards in August. Johnson said he hoped the federal guidelines will "alleviate concerns" over safety, and that nationwide policy will fix the "patchwork" approach West Coast states take for hazardous fuel spills.
Environmental groups criticized the amended version of HB 2131 over its lack of transparency.
Michael Lang, conservation director with Friends of the Columbia Gorge, said the bill started out on the right track but transformed into a "get-out-of-jail-free" bill for the railroad.
Lang said via phone that Johnson's vote to bring forward the amended bill revealed his attempts to "water down" the bill's public transparency provision in favor of the railroad.
"Oil by rail will never be safe, but we look forward to working with the Legislature in the future to pass oil train legislation that better protects the Columbia River Gorge National Scenic Area and Oregon communities from oil trains," Lang said in a statement.
Justin Jacobs, Union Pacific Railroad spokesman, said the bill would have created safety risks.
"Some elements of HB 2131 would have compromised the security of our Oregon communities by sharing sensitive safety-related information. Union Pacific will continue its bipartisan efforts to work with Oregon legislators to develop a bill that makes sense for everyone," Jacobs said in an email.
"We are focusing our efforts on developing a national solution to planning that accounts for interstate commerce and our common carrier obligation," he said.
Union Pacific is federally required to transport crude oil and other volatile materials.
Latest stories
Latest video:
Advertisement: The Men of Black Friday
The secret agents of Big Winds may not exactly be Tommy Lee Jones oand Will Smith, but they still discovered there is plenty of strangeness to be found in Hood River...especially once winter sets in. Enlarge