By BEN MITCHELL
News staff writer
The stands at Henderson Community Stadium were filled to the brim Friday evening for Hood River Valley High School's graduation, as family and friends cheered on the class of 2017.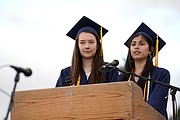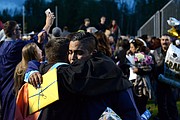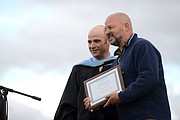 The weather was cold and cloudy with some intermittent rays of sunlight, but the rain stayed away this year and the 285 HRVHS graduates stayed dry as they walked across the stage to receive their diplomas.
The class motto came from a quote from President Barack Obama regarding personal responsibility if one desires to see change in the world ("Change will not come if we wait for some other person or some other time. We are the ones we've been waiting for. We are the change that we seek"), but the general theme of the night was diversity, unity, and embracing each other's differences.
Nearly all speakers touched on those themes. Morgan Totten, who opened the student speakers, said, "As individuals, we are diverse in our backgrounds, our cultures, our identities, and our goals. Despite our differences, we have all worked hard to prove that our education means something to us."
HRVHS Principal Rich Polkinghorn remembered, "I've stood by as this class has grown both physically and emotionally, and I've stood with this class as our nation, town, and friends and families were, at times, torn apart by a divisive national election."
That theme, perhaps, was best exemplified in a class speech delivered by Ami Santillan-Guzman and Abby Walker, who have been friends since meeting each other in middle school. Both speakers alternated between English and Spanish, detailing how they come from "two different cultures and backgrounds. We have experienced life in the valley in two different ways. In spite of this, like many of our classmates, we became friends."
Casey Holzman read from her poem "Scribbly Blue Pen," about the values of hard work, perseverance through difficulties, and believing in yourself, noting, "Life does want you to be happy , but first life needs to make you strong."
Candidates for valedictorian were honored at the event, which included Megan Ball, Josh Barringer, Blair Holman, Ross Morrison, Pico Sankari, and Samantha Thompson. A shout out was also given to this year's exchange students: Aryan Agrawal (India), Sarah Gottschalk (Germany), Anna-Lena Kuehnbach (Germany), and Nathan Schmidli (Switzerland). Volunteer of the Year was Dave Slover, for his work with the school's robotics program.
Before the presentation of the class of 2017 and the awarding of the diplomas, graduating chamber singers Nathan Daniel, Ann Marie Goodman, Sean Gray , Cathryn Kellett, Jasper Krehbiel, Savannah Rogan, Luke Serra and Anna Ticknor lip-synched to a pre-recorded version of their class song, "Travelling On," which touches on the mixed emotions felt at graduation:
When all that we could care about was
Growing up and getting out
Now it's all at our feet, but it feels so bittersweet.
Hood River Valley High School graduation 2017
•
By KIRBY NEUMANN-REA
News editor
Friends and family jammed Mark Boyden Memorial Gymnasium Saturday to watch the school's largest-ever graduation class, 27 strong, receive their diplomas. Superintendent Ken Block welcomed the assemblage, and said he has known this class since they started.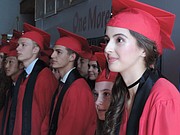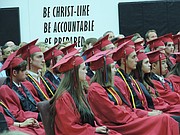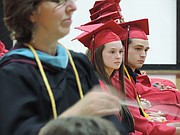 "I have gone through the cycle," Block said. "The Class of 2017 were kindergarteners when I started with the school." Senior Savannah Hawk gave the opening prayer, and teacher (and alumni) Brian Stenberg issued the class charge. Alumni Josh Boyden was keynote speaker.
Classmates William Decker, Amy Requa and Andrew Rinella gave three distinctly different commencement speeches.
Decker thanked parents and employers "who provided us with amazing experiences and put us on good pathways," and the school, staff and board, "for all the effort they put into us.
"They take good care of us. They care about all our futures and don't always get the attention they deserve," Decker said.
Requa said the past four years have been filled with laughter, stress, hard work, and opportunities. "As we look back on the last four years, remember opportunities were always accessible if we are willing to pursue them. There will always be ways to branch out, to learn more, and to delve more deeply into those subjects we are passionate about," Requa said.
"Failure to take risks is the only true failure. We should view failure as a motivator and teacher," she said. "Having the courage to pursue your passions will bring you closer to the person God meant you to be. Go out and embrace this next chapter with enthusiasm."
Rinella used the metaphor of "rogue waves, rip tides and sharks in the ocean of life, "in a talk on how seniors can deal with future challenges — and mixed in a bit of humor.
"We all learned the ABCs — letters like Q, F — and elemeno," Rinella said. "But we also learned the ABCs of Horizon: Academic Excellence, Biblical worldview, and Christian character.
"Horizon has not thrown us into the ocean ourselves, it has given us the boat, in the form of these ABCs," Rinella said: A is the motor that drives the boat; B is the hull that "protects us from the sharks and waves, and gives us a sure footing," and C is "the compass by which you steer your boat. "It will always help us to steer our true course,"Rinella said. Your compass never lies but from time to time be sure to check it carefully. This boat is the means to get us where we mean to go."
Latest stories
Latest video:
Advertisement: Local Appreciation Sale at Big Winds