"This mural is who they are and where they came from," says teacher Sarah Lyon about the newest large-scale student artwork in the Hood River County School District.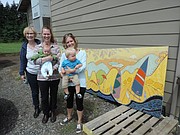 The 28 students from Hood River Valley Alternative High School have spent the last two months creating a mural over 500 square feet that now encompasses the exterior of their classrooms on the southwest corner of the Hood River Valley High School campus. The students worked with artist Allison Fox on a collaborative project with Arts in Education of the Gorge that was funded through a grant from the Gary M. Anderson Children Foundation.
Students spent a week with Fox telling her their personal stories, sketching ideas, and brainstorming different artistic styles they wanted to be represented on the mural, according to Lyon. With Fox's guidance, students brought their ideas to life on the boards that adorn the building. With images ranging from downtown Hood River to fields of bees, the mural captures where these students come from and shares their voice with the community, Lyon noted.
"We met two or three times a week for four hours, with 10-25 students painting on any given day," said Fox.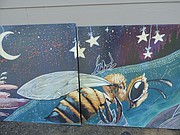 "The first couple of weeks, getting them to kind of warm up and talk about themselves were the most challenging, and then we got some amazing ideas and then it was melding those topics into one long theme."
Student comments on the new project, provided by Lyon (a 1999 HRVHS grad), included: "I've enjoyed watching different people's ideas become real," from Emma Struefert.
"Painting (has been) really soothing for me," said Alexa Gutierrez.
"My voice was heard in this project," said Olivia Cordova.
"The mural changed my perspective of life by showing me that even if you make a few mistakes, you can still get where you wanna go," said Jake Wahl.
"It makes me happy," said Gabriel Pinedo.
"I've enjoyed the process it took to add everybody's contribution to the mural and to have it flow nicely," said Jasmine Salgado.
"The kids get to tell their story, they get involved, and we're trying to connect them to the school," said Gail Lyon of the Anderson Foundation. "The foundation supports giving chances to kids and connecting them, with a heavy emphasis on art. Sarah and Allison have really followed through and gotten the kids involved."
Sarah Lyon said, "We wanted to give ourselves a sense of pride and ownership in the place and make it a place where they enjoy coming. Early on we talked of landscaping, but the mural came to life as an idea, and they followed through." She praised Fox for her openness to all student input.
"Every idea was welcome, and you see little ideas like the guitar player, and downtown Hood River, a beach bum, another person was into wave running, and all those little things are tucked in different places. She did an amazing job of weaving their stories together."
More like this story
Latest stories
Latest video:
Advertisement: The Men of Black Friday
The secret agents of Big Winds may not exactly be Tommy Lee Jones oand Will Smith, but they still discovered there is plenty of strangeness to be found in Hood River...especially once winter sets in. Enlarge