Visit the Hood River Library on June 22 at 7 p.m. for a reading and Q&A with Dr. Sherry Dell, author of "Collected Writings on Natural Health and the Spiritual Path."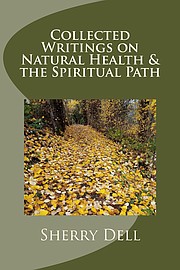 The book is an anthology of essays written over the course of the past 25 years. Part health and wellness guide, part memoir, and part recipe book, this collection reflects Dell's research, writing, and practice of ancient and modern natural healing strategies. It reflects her roots as a farmer's daughter and the farm traditions of self-reliance and self-care. It takes the reader on the author's journey as both healer and the one who needs healing and arrives at her realizations that long before symptoms become present in the physical body, there are changes in our non-physical lives that provide the road map to healing.
This program is free and open to the public. For more information, contact the Hood River County Library District at 541-386-2535, info@hoodriverlibrary.org, or visit hoodriverlibrary.org.
Finding wholeness in our dark and light sides
Sherry Dell, PhD, CN, Rev., began her journey through the arts and sciences of holistic natural healing with her mother's cancer diagnosis in 1987. After caring for her mother during her medical treatments and subsequent death 14 months later, she felt strongly that there must be a better way. She came to believe that no one should have to suffer such pain, fear, and loss of hope in the last months of life.
•
"What does the word 'wholeness' call to mind? How about the term 'holistic'? Body, mind and spirit? Or maybe it has come to connote nothing more than a natural approach to health?
"Let's consider wholeness to be that state of being that includes both our light and our dark sides (and any of the shades-if-gray sides you might stumble upon). On the day that dawns when we can breathe a sigh of relief and relax into the truth of being both brilliant and highly fallible, we might say we have found our wholeness. Or we can be both the leading-edge-grandest contribution to the universe and the smallest, and growing smaller grain of sand in the universe. We can be wildly generous sometimes and stingy some other times. We can be gentle and loving sometimes and cold and distant some other times. On and on. You get the idea. We can be the living paradox we are.
"No longer spending untold energy on the masks of pretense of the games of deception, manipulation and control that are necessary to hold off the truth that we are both dark and light, we generally feel a huge influx of strength, and time, and new perspective. And humility. Humility might be our best sign that wholeness has arrived. It's hard to feel arrogant about much of anything one you've returned your shortcomings to the fold. Though you might also feel that spectacular describes the new you very aptly."
— From "Collected Writings on Natural Health and the Spiritual Path," available on Amazon.com, in Kindle format and paperback as well as at createspace.com. For more information, contact Dell at sherry@sherrydell.com.
More like this story
Latest stories
Latest video:
Sixth Annual Harvest Fest Pie Eating Contest
The sixth annual Pie Eating Contest at Hood River Harvest Fest is sponsored by the Chamber of Commerce and HRVHS youth service group Leaders for Tomorrow. HRVHS student Dylan Polewczyk won the 1-minute fruit-pie eating event. Key rule, as stated by Chamber President Jason Shaner, "You have to eat the pie, you can't just dislocate it. We will be checking for pie dislocation." Enlarge