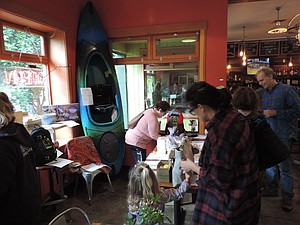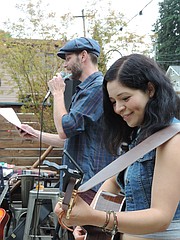 Kickstand Kitchen hosted Wednesday's fundraiser for the 10th annual Peace Village day camp, with silent auction bidders placing their bids, above, with some entering a drawing for the Pungo kayak (back left) donated by Kayak Shed.
Heather Clemons — who bought a single ticket — won the kayak.
Audrey Price of Peace Village said the event surpassed the $5,000 goal, with the bonus of drawing new interest to Peace Village, July 7-11 at Mosier School (columbiapeacevillage.com).
"We met a lot of new people and gained some new volunteers," Price said.
Latest stories
Latest video:
Sixth Annual Harvest Fest Pie Eating Contest
The sixth annual Pie Eating Contest at Hood River Harvest Fest is sponsored by the Chamber of Commerce and HRVHS youth service group Leaders for Tomorrow. HRVHS student Dylan Polewczyk won the 1-minute fruit-pie eating event. Key rule, as stated by Chamber President Jason Shaner, "You have to eat the pie, you can't just dislocate it. We will be checking for pie dislocation." Enlarge