After competing in season-opening tournaments a week ago, a young HRV golf team is confident they'll improve and enjoy some success in Columbia River Conference events this year.
The boys and girls golf squads, guided by fourth-year coach Mark Gradin, participated in the The Dalles Invitational Tournament events last week at The Dalles Country Club. Only two golfers entered the March 17 event for the Eagle boys: senior Conrad Nielsen and junior Alden Gendreau. For the Eagle girls squad, the trio of Carly Wyatt, Victoria Ervin and Amy Webber had a strong effort in their March 13 opening match in The Dalles.
"I feel ecstatic about the good performance that the kids had in their first tournament," said Gradin. "I've been coaching the girls group since they were freshmen and so they've been participating very consistently while coming out to compete on our team the last three years. We're struggling a little bit with our boys team having just two varsity players, but we're hoping to eventually see some improvement with the number of players participating in boys golf."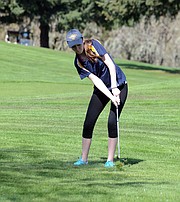 HRV's boys and girls squads both competed in the Hermiston Invitational Thursday at the Big River Golf Course (results unavailable at press time). HRV's next match will be in a six-team tournament April 3 at 10 a.m. at Wildhorse Golf Resort in Pendleton. HRV will host its only home event of the year April 10 at Indian Creek Golf Course in Hood River, followed by a tournament April 13 at Pendleton.
"We've been playing in tough conditions recently on courses that are really wet and soggy and the ball doesn't roll very good," said Gradin. "It's very difficult to play well with the windy and rainy weather that we've had to compete in so far this year."
The seven-event regular season schedule concludes with a tournament May 1 at Meadow Lakes Golf Course in Prineville. The Special District 2 boys and girls state qualifying tournament is May 4-6 at Eagle Crest Golf Course in Redmond. Pendleton is one of the top CRC girls squads and The Dalles is a top CRC boys contender.
The girls state tournament is May 15-16 at Emerald Valley Golf and Resort in Creswell (near Eugene). The boys tournament is May 15-16 at Quail Valley Golf Course in Banks.
HRV's boys squad includes freshman Jake Page, while the varsity squad is comprised of only Nielsen and Gendreau. The boys will be unable to post a score in team events, because it requires the combined scores of four golfers.
With a total of seven golfers on the girls squad, that group is the primary focus for the Eagles golf teams this year. The girls squad includes junior Sara Hamada and freshmen Miriam Levine, Isabella Read and Emma Marquez.
"The girls have really shown a lot of positive signs of improvement and I'm expecting to see some good things from them this year," said Gradin. "Carly Wyatt had a good performance at The Dalles Invitational Tournament. We have a really solid four-member varsity squad with Wyatt, Ervin, Webber and Hamada that can play pretty consistent golf. They're improving and they're concentrating on lowering their scores so they're capable of competing very well in every tournament."
Wyatt had an impressive performance while golfing at the 18-hole The Dalles Country Club course and she took fifth place overall out of 40 players while shooting a career best 110 on March 14. Webber shot a 114 and Ervin shot a 138 as HRV had just three competing, so they were unable to register a team score.
Pendleton senior Haley Greb earned medalist honors with a two-over-par 74 and she helped lead the Buckaroos to the team title with a four-player score of 411.
More like this story
Latest stories
Latest video: