Saturday, November 18, 2017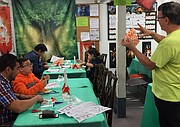 Hood River Hobbies hosts its annual Thanksgiving rocket building and launch class on Wednesday, Nov. 22 from 11 a.m. to noon.
There is a $10 supply fee, which includes an engine for launch. Those who are members of the Gorge Rocket Club can also participate in the Nov. 23 Thanksgiving Day launch at 10 a.m. at Westside Elementary, as well as the New Year's Day launch and other subsequent launches. Rocket Club fee is $10 per person or $15 per family and is a one-time, annual fee.

Register through Community Education at www.hoodriv-er.k12.or.us/communityed. More info at info@hood-riverhobbies.com.
More like this story
Latest stories
Latest video:
Advertisement: The Men of Black Friday
The secret agents of Big Winds may not exactly be Tommy Lee Jones oand Will Smith, but they still discovered there is plenty of strangeness to be found in Hood River...especially once winter sets in. Enlarge