Saturday, November 18, 2017
The United States Postal Service will debut a new Alzheimer's Semipostal Fundraising stamp on Thursday, Nov. 30.
The stamp will be sold for 60 cents; the price includes the first-class, single-piece postage rate in effect at the time of purchase, plus an amount to fund Alzheimer's research, according to a press release. By law, revenue from sales of the Alzheimer's Semipostal stamp — minus the postage paid and the reimbursement of reasonable costs incurred by the Postal Service — will be distributed to the National Institutes of Health, which is part of the U.S. Department of Health and Human Services.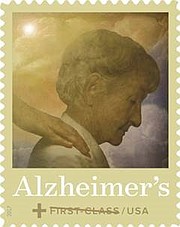 The stamp's artwork is an illustration that first appeared on the 2008, 42-cent Alzheimer's Awareness stamp. It shows an older woman in profile with a caring hand on her shoulder with the suggestion of sunlight behind her and clouds in front of and below her. On the 2008 stamp, she was facing left; the artwork for this stamp shows her facing right to help differentiate between the two. Stamp artist Matt Mahurin of Topanga Canyon, Calif., worked under the direction of art director Ethel Kessler of Bethesda, Md.
•
The Semipostal Authorization Act, Pub. L. 106–253, grants the U.S. Postal Service discretionary authority to issue and sell semipostal fundraising stamps to advance such causes as it considers to be ''in the national public interest and appropriate.'' Under the program, the postal service intends to issue five semipostal fundraising stamps over a 10-year period, with each stamp to be sold for no more than two years. The Alzheimer's Semipostal stamp is the first and will be followed by a Post-Traumatic Stress Disorder (PTSD) semipostal stamp to be issued in 2019. The next three discretionary semipostal stamps have not yet been determined.
Under the Act, the postal service will consider proposals for future semipostals until May 20, 2023. There are currently two semipostal stamps available for sale that have been mandated by Congress. These are the Breast Cancer Research Semipostal, which has raised more than $86.1 million, and the Save Vanishing Species Semipostal, which has raised more than $4.3 million as of September 2017.
All postage stamps are available for purchase at post offices, online at usps.com, and by toll-free phone order at 1-800-STAMP-24.
More like this story
Latest stories
Latest video:
Advertisement: Local Appreciation Sale at Big Winds