Wednesday, October 11, 2017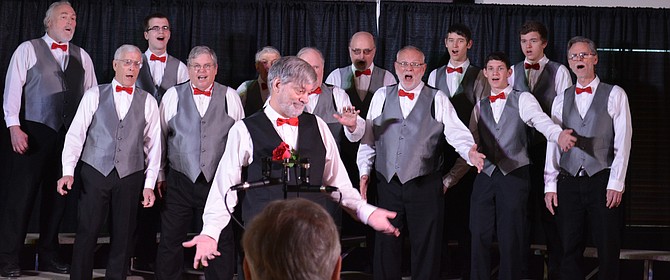 Harmony of the Gorge (women's chorus) and the new Wind Masters (men's chorus) are hosting their first joint shows on Oct. 21 — a 2 p.m. matinee and a 7 p.m. evening show — at Shepherd of the Valley Church (Horizon Christian School), 1631 Eighth St., Hood River.
The theme will be "America's Music on Parade," and will include songs both new and old. Both choruses will be joined by the new men's quartet "The Tune Ups," as well as guest performances by FLIPSIDE, the District's 2016 Champion Quartet, Up To Something, the 2017 women's Audience Choice Quartet, and Northwest Sound, a new mixed chorus with singers from the Portland/Vancouver areas.
Judy Beckman is the director of Harmony of the Gorge, and Harry Buerer directs the Wind Masters and Northwest Sound choruses.
•
Tickets are $15 for adults, $12 for seniors, and $10 for those under 18, and can be purchased online at harmonyofthegorge.com, at 541-490-6680 or 541-490-2481, or at the door.
Latest stories
Latest video:
Sixth Annual Harvest Fest Pie Eating Contest
The sixth annual Pie Eating Contest at Hood River Harvest Fest is sponsored by the Chamber of Commerce and HRVHS youth service group Leaders for Tomorrow. HRVHS student Dylan Polewczyk won the 1-minute fruit-pie eating event. Key rule, as stated by Chamber President Jason Shaner, "You have to eat the pie, you can't just dislocate it. We will be checking for pie dislocation." Enlarge