Wednesday, October 11, 2017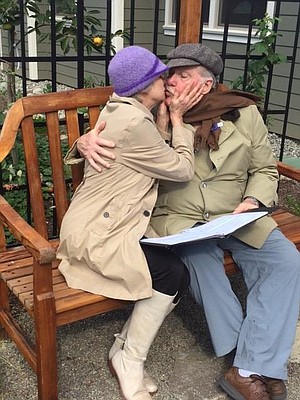 Hood River Valley Adult Center hosts a staged reading of the play "Old Unfaithful" on Saturday at 2:30p.m. and 7 p.m.
Gary Young directs the one-act by Linda Billington. Ken McCarty and Irene Fields, two Hood River stage veterans, portray Matthew and Louisa, who sit together on a cold and windy winter day awaiting the expected eruption of Yellowstone's Old Faithful as they celebrate their 49th year of marriage.
As they wait, their conversation turns from the geyser to the ups and downs of their marriage and impending end-of-life issues about which difficult decisions must now be made.
A suggested $5 donation to Meals on Wheels covers the cost of the ticket.
Following the performance there will be a talk-back and information session with the actors and director.
More like this story
Latest stories
Latest video:
Sixth Annual Harvest Fest Pie Eating Contest
The sixth annual Pie Eating Contest at Hood River Harvest Fest is sponsored by the Chamber of Commerce and HRVHS youth service group Leaders for Tomorrow. HRVHS student Dylan Polewczyk won the 1-minute fruit-pie eating event. Key rule, as stated by Chamber President Jason Shaner, "You have to eat the pie, you can't just dislocate it. We will be checking for pie dislocation." Enlarge