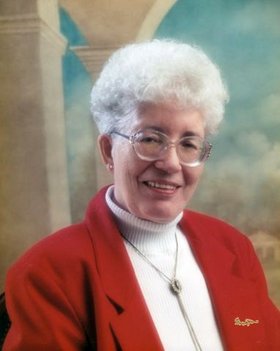 Lucile Adele Stanley
September 5, 1925 - March 29, 2009
Lucile Adele (Nichols) Stanley, of Milwaukie, Ore., died March 29, 2009, in Salem, Ore., at the age of 83.
She was born Sept. 5, 1925, in Boyd, Ore., the second of seven children of Chester and Dorothy (Martin) Nichols. She grew up on farms in Cascade Locks and attended grade school there.
In 1938, the family moved to a farm in Skamania, Wash. She was excited about attending Stevenson High School, but her sophomore year, the family moved back to Cascade Locks. Determined to remain at Stevenson High School, she walked daily across the Bridge of the Gods to school for several months, until finally enrolling at Cascade Locks High School.
At age 17, with only one credit to earn, Lucile moved to the exciting city of Portland to work, completing her diploma by correspondence with her school. She graduated from Cascade Locks High School in 1943 as the valedictorian.
In Portland, she lived with girlfriends and worked as a stenographer for the Army Corps of Engineers.
In 1944, she married Warren Lewis in Cascade Locks and they lived in Vanport, then Lowell, Ore., both working for the Corps of Engineers.
In 1949, she married Donald Matheny in Kelso, Wash. While he helped construct dams with the Corps of Engineers, she quit working to raise a family. His work took them to The Dalles, Oakridge, Pasco, Wash., Hermiston, and back to The Dalles, where she refused to move anymore. So, the family stayed put until the children were out of school.
Returning to work, she was employed as a secretary at The Dalles Dam and Mid-Columbia Mental Health. Then in 1970, she moved to Salem and worked as an executive secretary for the State of Oregon. In 1971, she married Howard Stanley in Corvallis, and they lived many years in Salem and Tualatin. All her husbands preceded her in death.
Lucile was a member of the United Methodist Church and Beta Sigma Phi Sorority in The Dalles, and was a Cub Scout den mother for 10 years.
She was an avid reader, crossword puzzle worker and pinochle player, and enjoyed swimming, using e-mail, writing her life story on her computer, watching World Series and Blazer games, attending the Cascade Locks Old-Timers Picnic, and traveling to the Oregon Coast, and to visit relatives. She was a wonderful friend to many, and a warm and caring mother.
Survivors include her sons and daughters-in-law, Ronald and Susan Matheny of Madras, Ore., Daniel and Nancy Matheny, of Keizer, Ore., and DiAnn Matheny, of Florida; stepson, Tom Stanley, of California; stepdaughter-in-law, Kellee Stanley, of Keizer; stepdaughter, Stephanie Stanley, of California; brothers Jim Nichols, of Brookings, Ed Nichols, of Spokane, Wash., and Darell Nichols, of Portland; and sister, Karen Quigley, of Yuma, Ariz.; nine grandchildren; 10 great-grandchildren, and one on the way.
Besides her husbands, she was preceded in death by her sons, Thomas Matheny and James "Mat" Matheny; her brother, Bob Nichols, and sister, Loraine White.
Funeral services were held April 4 at Virgil T. Golden Funeral Services, in Salem. Her ashes will be placed next to those of her son, Tom, at Portland Riverview Abbey Mausoleum.