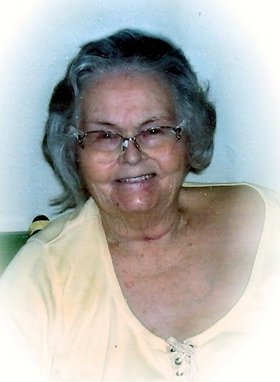 Wanda Genevieve Perkins
October 23, 1921 - April 8, 2009
Wanda Genevieve Perkins, 87, passed away April 8, 2009, at the Hood River Care Center.
A graveside service is planned for 3 p.m. Monday, April 13, at Idlewilde Cemetery. Chaplain Clyde Sanda of Heart of Hospice will lead her service.
Wanda was born Oct. 23, 1921, at Mountain Home, Idaho, to Warren and Mary Johnson. She spent her youth and was married there in 1937 to Willis Perkins. At the time of his death in 2004, they had been married for 67 years.
In 1947, Willis and Wanda moved their young family to a small farm on Trout Creek Ridge near Parkdale. Like most couples who came of age during the Depression and World War II, they knew what it was to struggle and to survive by hard work and sacrifice.
Wanda loved their farm and taught her children how to work and accept responsibility. She also loved to hunt and fish and joined her husband and children on annual hunting and fishing trips.
Her family was her joy and she took great pride in her children, her grandchildren, great- and great-great grandchildren.
Wanda is survived by her daughter, Kathryn Kowalski, of Mill City, Ore.; daughter, Mary, and son-in-law, Bob Mahan, of Scottsdale, Ariz.; son, Wayne, and daughter-in-law, Melanie, of Parkdale, and daughter, Janet, and son-in-law, Clay Elliott, of Fairbanks, Alaska.
She is also survived by 17 grandchildren, 24 great-grandchildren, and three great-great-grandchildren. Wanda was predeceased by her husband, Willis, of Parkdale, and sisters Lillian Forsell, of Florence, Ore., and Bonnie Sikes, of Portland, Ore.
From Wanda's children to honor our parents:
In Our Hearts:
They are not dead,
Who leave us this great heritage of remembering joy.
They still live in our hearts,
In the happiness we knew, in the dreams we shared.
They still breathe,
In the lingering fragrance, windblown, from their favorite flowers.
They still smile in the moonlight's silver
And laugh in the sunlight's sparkling gold.
They still speak in the echoes of words we've heard them say again and again.
They still move in the rhythm of waving grasses, in the dance of the tossing branches.
They are not dead.
Their memory is warm in our hearts, comfort in our sorrow.
They are not apart from us, but part of us.
For love is eternal,
And those we love shall be with us throughout all eternity.
The family suggests that any memorial contributions be made in Wanda's memory to Heart of Hospice and sent in care of Anderson's Tribute Center.
Arrangements are under the direction of Anderson's Tribute Center (Funerals, Receptions, Cremations), 1401 Belmont Ave., Hood River, OR 97031; (541) 386-1000. Please visit www.andersonstributecenter.com to sign the family guest book, and leave a note of condolence.