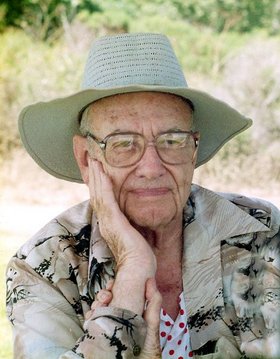 Kenneth William Stoddard
March 27, 1916 - April 13, 2009
Kenneth William Stoddard, 93, died comfortably at home under Hospice care on Monday, April 13, 2009, due to complications of old age.
Kenny was born in Pomona, Calif., to LeRoy and Mabel (Gressley) Stoddard on March 27, 1916. He attended the Chino schools, excelling in his studies and fine art. He designed and built sets for the high school productions. After graduating he drove a school bus for his alma mater, receiving awards for seven years of safe driving.
The love of his life, Cleta Wilson, rode his bus. She brought flowers to put in his hat. They were married in 1937 and enjoyed 70 years of marriage until she died.
In 1942 Ken was hired by Douglas Aircraft as a draftsman, designing parts for the war planes. He soon distinguished himself for his precise and well-done drawings. He worked for Douglas for 34 years, retiring in 1973.
Ken and Cleta bought a half-acre lot in Hawthorne, Calif., in 1942, where they lived for 65 years, raising their two daughters and building fond memories there. Ken loved working in the yard. He planted more than 100 trees; most of them coast redwoods, but also several fruit trees. The place was like a park.
Ken continued his interest in art, painting in oil, acrylic and watercolor. After retiring from McDonnell/Douglas he volunteered at the Hawthorne Senior Center, teaching painting.
Ken and Cleta, on their 70th anniversary in 2007, moved to Mt. Hood to live with their daughter, Linda, and her husband, Norman Frizzell. Ken told people he rode the train to heaven when he came to his new home.
Just six weeks after moving to Mt. Hood, Cleta tripped and fell very hard, breaking her hip. During surgery she had a small stroke. She was recovering well at the Care Center under re¬ hab when she died in her sleep on Oct 3, 2007. Ken was also preceded in death by a great-granddaughter, Joy Emma Carson.
Ken is survived by his sister, Mildred Cox, of Lorna Linda, Calif. (age 102); his brother, Robert Stoddard (age 90), of Torrance, Calif.; two daughters: Keneta (Ken) Carson, of Mission Viejo, Calif., and Linda (Norman) Frizzell, of Mt. Hood, Ore.; three grandchildren: Natasha (Tom) Scrivener, of Camarillo, Calif., Katrina (Ibrahim) Geylani, of Adana, Turkey, and Jason (Julie) Carson, of Mission Viejo, Calif.; and eight great-grandchildren: Zoe, Parker and Quintin Scrivener; Alana and Kaya Geylani and Halley, Lucy and Janey Carson.
Arrangements are under the direction of Anderson's Tribute Center (Funerals, Receptions, Cremations), 1401 Belmont Ave., Hood River, OR 97031; 541-386-1000. Please visit www.andersonstributecenter.com to sign the family guest book.