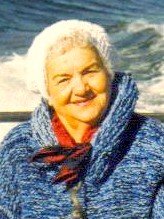 Geradeane M. Vowels
April 12, 1921 - November 27, 2009
Geradeane M. Vowels, 88, of Prosser, Wash., entered into rest at Prosser Memorial Hospital. She was born on April 12, 1921, in Dayton, Ohio, to Joseph and Trilby (Watt) Cain.
She was raised in Los Angeles, Calif., where she met Elmer Lawrence Vowels at a U.S.O. dance. They were married and raised five children.
Gere moved to Hood River, Ore., in 1975, taking Diana and Patrick with her. In February of 2009, she moved to Prosser, Wash., where she spent her remaining days until leaving us on Nov. 27, 2009.
Gere enjoyed quilting and oil painting. In California she was a 4-H leader while her children raised horses, pigs and cows.
Geradeane will be missed by her family and friends. After living through the Depression and several wars, she had many stories to share with those around her.
Gere is survived by her daughters, Terri Montavon and her husband, Vernon, of Parkdale, Ore., and Diana Lester and her husband, Brad, of Othello; her son, Patrick Vowels, and his wife, Sharlene, of Prosser; eight grandchildren and 10 great-grandchildren.
She was preceded in death by her husband, Elmer, in 1983; her daughter, Nancy Edwards; and her son, William Vowels, on Nov. 8, 2006.
A memorial service will be held at 1 p.m. Saturday, Dec. 5, at Prosser Funeral Home in Prosser, Wash. The family suggests memorial contributions be made to Paralyzed American Veterans in care of Prosser Funeral Home, P.O. Box 409, Prosser, WA 99350; 509-786-3642.