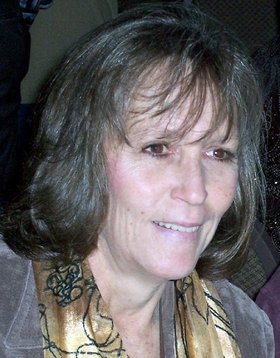 Brenda Gail Herman
July 16, 1955 - July 2, 2009
Brenda Gail Herman passed away July 2, 2009, at Skyline Hospital in White Salmon, Wash., with her family at her side, after a courageous battle with spinal osteo sarcoma cancer. Brenda was 53 years old.
A memorial service to celebrate Brenda's life will be held at 2 p.m. Thursday, July 9, at Anderson's Tribute Center 1401 Belmont Ave. in Hood River, Ore. Please visit www.andersonstributecenter.com to sign the family guest book.
Brenda Gail Herman was born on July 16, 1955, at The Dalles, Ore., to Wiley and Beulah Herman. She joined four siblings at home in Mosier, where she began school before moving to White Salmon in 1962 and then to Hood River in 1963.
Despite having rheumatic fever and other illnesses, she was able to graduate with her class at Hood River Valley High School in 1973. She moved back to White Salmon in 1977 and later attended Columbia Gorge Community College for office management and accounting.
Brenda held many jobs in the community but especially enjoyed her seven years as executive director of the Mt. Adams Chamber of Commerce, a position she left to pursue her own business producing handcrafted soaps, oils, and creams as Misty Mountain Naturals in 2001.
As a teenager, Brenda took the time to read to seniors at the Hood River Care Center and taught knitting to 4-H'ers. In fact, Brenda was rarely seen without her knitting needles and sold many gorgeous scarves she made at the Saturday Market.
As an adult, Brenda began to also see ways she could improve her community. In the early 1990s, she saw the need for a shelter for abused women and children in the Gorge and her work led to "Hope's Place." While working at the Mt. Adams Chamber of Commerce, she helped implement a community cleanup project which became an annual April event.
One of her personal triumphs was a climb to the summit of Mount Hood in the late 1980s. But Lost Lake was the most special and peaceful place for Brenda and she consistently celebrated each birthday with a picnic or campout there with her family.
Her greatest joys were the arrival of her son, Jeremy, in January 1975 and her granddaughter, Paige, in 1993.
In October 2004, Brenda suffered a major heart attack which forever limited her physical activities. With her family's assistance, she was able to continue marketing her soap products at the Saturday Markets.
She loved cooking and found Zach and the rest of her family to be very willing participants when it came to tasting her good food and bakery items. And, she continued her gardening, trying to win over the many deer which traditionally came to taste her herbs, flowers and vegetables.
She also became involved in Soldier's Angels, sending care packages to our military men and women serving in Iraq and Afghanistan. In 2007, she organized the assembly of care packages at a Saturday market event which was attended by Gov. Kulongoski.
In 2008 she co-founded the Heroes Club, which was sponsored by the White Salmon Elks Lodge 1868 and the Hood River Elks Lodge 1507, to support our men and women from the Gorge who are serving in the Armed Forces.
Brenda was a member of Elks Lodge 1868 in White Salmon as well as a member of the Hood River Valley Christian Church. She served on the board of the Skyline Hospital Foundation as well as the Hood River Saturday Market, as board president. She was named Citizen of the Year 1995 by the Mt. Adams Chamber of Commerce and 2008 Elk of the Year Lodge 1868.
Brenda is survived by her life partner, Zach Johnson, of White Salmon, Wash.; her son, Jeremy Herman, and Leslie Meyrick; granddaughter, Paige Herman; and grand-stepsons Sylus and Nate Noe, all of White Salmon.
She is also survived by her mother, Beulah Herman, of Hood River; her brother, Jim Herman (Luci), of White Salmon; sisters Dorothy Herman, of White Salmon, Ruby Pantalone, of Keizer, Ore., and Bobbi Reisner, of Hood River. Many nephews, nieces, aunts, an uncle and many cousins also survive.
She was preceded in death by her father, Wiley Herman, in 2005, and Zach's mother, Barbara Johnson, in 2007.
Memorials are suggested to the Herman Scholarship Fund or Hospice of the Gorge in care of Anderson's Tribute Center (Funerals, Receptions, Cremations), 1401 Belmont Ave., Hood River, OR 97031; 541-386-1000.