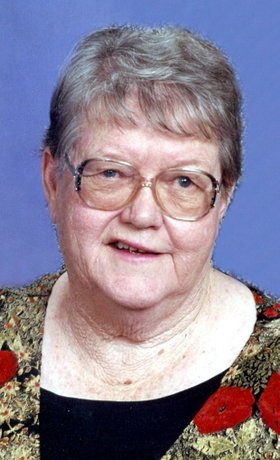 Hazel Mae Nichols
May 2, 1928 - July 24, 2009
Hazel Mae Nichols was born May 2, 1928, to Charles Henry and Catherine Isabelle (Wenn) Boehm. She passed away July 24, 2009, in Hood River, Ore., at the age of 81.
Hazel was born in Twin Falls, Idaho, and shortly after her family moved to Lakeview, Ore., where she attended elementary and middle school. In 1944 the family moved to New Plymouth, Idaho, where she attended and graduated from New Plymouth High School.
After graduation, Hazel attended cosmetology school in Nampa, Idaho. Her first job working in a beauty shop was in Blackfoot, Idaho, for a short time, then she moved back to New Plymouth to work in a beauty shop there.
Hazel married Fred James Nichols on Nov. 14, 1951, in Winnemucca, Nev. She and Fred lived in several places where Fred taught school, starting at Wilder, Idaho, then going to Bureau, Idaho, Arlington, Ore., Cmas Valley, Ore., Connell, Wash., and then Hood River, Ore. Fred passed away in 1980 and Hazel remained in Hood River.
Hazel is survived by her son, Dwight Nichols, of Hood River; Loretta Tucksen (Greg), of Kennewick, Wash., and one granddaughter, Kylie Mae Hanson, of Kennewick, Wash.; a sister and brother-in-law, Dorothy and Fred Freeland, of Boise, Idaho; and several nieces and nephews whom she loved very much.
She was preceded in death by her husband, Fred J. Nichols; her father and mother, Charles and Catherine Boehm; brothers Elmer Boehm and Carl Boehm; brother and sister-in-law, Everett and Marian Boehm; sister and brother-in-law, Helene and Newt Justis; sister and brother-in-law, Lillian and Leonard Jackson; sister and brother-in-law, Edith and Jack Mayer; and sister and brother-in-law, Viola and Chet Squire.
The family wishes to thank the very special caregivers and Heart of Hospice for all the loving care and dedication they gave our mother. Memorials can be made to Heart of Hospice, 1020 Wasco St., Ste. C, Hood River, OR 97031 or info@heartofhospice.org.
Services will be held on Thursday, July 30, at 10 a.m. (Mountain Time) in New Plymouth, Idaho, at Shaffer-Jensen Memorial Chapel.