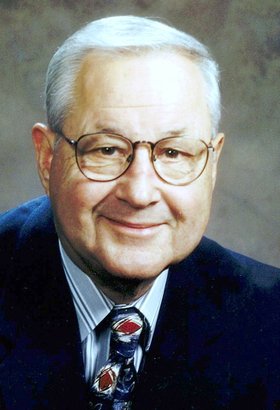 John "Hank" Henry Cary
January 11, 1929 - July 26, 2009

John Henry "Hank" Cary passed away in the early morning hours of Sunday, July 26, 2009, surrounded by his family, at Kaiser Sunnyside Hospital in Portland, Ore. John was born Jan. 11, 1929, in Wyandot, Okla., to John and Lula Charloe Cary. He was a member of the Seneca-Cayuga tribe of Oklahoma.
The Cary family moved to Hood River, Ore., in 1931. John graduated from Hood River High School in 1947. He then attended Eastern Oregon College in La Grande, Ore.
John left Eastern Oregon to serve in the United States Air Force during the Korean War. Upon leaving the Air Force, John attended the University of Oregon, graduating from the School of Journalism. John was a lifelong supporter of the University of Oregon and its athletic programs.
John began his broadcasting career in Corvallis, Ore. He moved to Salem, Ore., a year later to take a job with KSLM Radio in both marketing and as a sports broadcaster. John was a sports broadcaster for local high school sports as well as Willamette University.
John was best known as the voice of the Salem Dodgers. During this time, he met and married his former wife, Margaret "Sally" Gillispie, in November 1961. They had three children together.
John resided in Salem, Ore., until his passing. He was actively involved in many local area organizations including a variety of youth sports programs; the Salem Boys and Girls Club, where he was a past board president; marshalling at the Salem Golf Club; and was a past president of the Salem chapter of the Duck Club.
John also enjoyed fishing, camping and golfing, and was a season ticket holder for the University of Oregon football team. His greatest passion was supporting his children in their many activities and accomplishments throughout their lives.
He was preceded in death by his father, John "Pop Pop" Cary, and his mother, Lula "Nana" Cary. He is survived by his sister, Betty Collie, of Scappoose, Ore.; his three children, Robert Cary, of Keizer, Ore., Paul Cary, of Salem, Ore., and Michelle Cary, of Prineville, Ore.; and nieces and nephews and their children.
Memorial services will be held at 10:30 a.m. Friday, July 31, at Virgil T. Golden Funeral Service, Salem, Ore. Dress casual in your best Civil War attire. A private family interment will follow at Willamette National Cemetery in Portland, Ore. Memorial contributions may be made to the Boys and Girls Club of Salem.