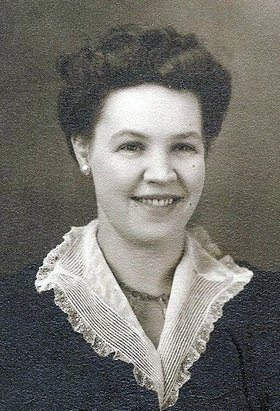 Mildred Wolf
August 4, 1912 - June 14, 2009
Mildred Wolf, 96, a former resident of Hood River, Ore., passed away June 14, 2009, in Eugene, Ore.
Mildred was born Aug. 4, 1912, in Langlade County, Wis. She was the only child of Robert Deaton and America Arrowood.
Her mother remarried to Woodsie Gibbs and she grew up on a farm with seven step- and seven half-brothers and -sisters in Lily, Wisc.
She married Joe Wolf on Jan. 9, 1930.
In June 1943, the family moved to Hood River. Over the years all six of her half brothers, sister, an aunt and mother lived in Hood River.
In Hood River she owned Joe's Cafe on West Cascade from 1943 to 1945, The Hart Hotel from 1945 to 1948, and the Heights Food Store from 1946 to 1947. She later worked for Ed's Pennywise and Safeway.
At the cafe she developed a reputation for her wonderful home-baked pies. Several restaurant owners in Hood River tried to get her to bake for them.
She was a devout Catholic and taught Sunday school to first-graders for nine years.
The family moved to Eugene in 1953 for better employment opportunities for her husband, who was a logger, and so her children could attend a Catholic school.
In Eugene she worked as a checker at Safeway and other large supermarkets, retiring in 1966.
Following 10 years of retirement she was asked to cook for the priests of St. Mary's parish in Eugene. Being invited to dinner at St. Mary's became a real treat. This work was very pleasing to her and she did it until she was 76 years old.
Her husband and a grandson (Greg Long) died in 1980. She is survived by daughters Virginia (Ginny) Long of Springfield, Joyce Jenkins (Wayne) of Portland, Clara Barnes (Richard) of Eugene and son Clifford (Dolores) of Milwaukie. Also 16 grandchildren, 20 great-grandchildren and 19 great-great-grandchildren.
Her funeral will be at St. Mary's Catholic Church in Eugene Thursday, June 18, at 12:15 p.m.