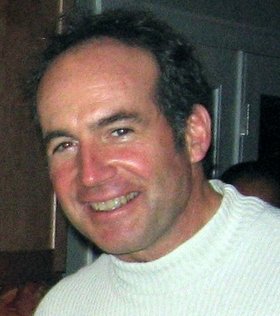 Michael Scott King
December 25, 1958 - May 3, 2009
Michael Scott King embraced life to its fullest. He was a man of diverse talents and interests. He was an accomplished musician and loved travel, adventure, snow skiing, the outdoors, music, having fun, laughing, and the camaraderie of his friends. Most of all, he cherished the love of his family.
Michael passed away at his Hood River, Ore., home after a courageous journey with cancer on May 3, 2009. He was born on Christmas Day, Dec. 25, 1958, on the island of Guam to Richard and Anne Marie (Grettenberger) King.
He attended grade school in Elkhart, Ind., and graduated from Hinsdale Central High School in Illinois. Throughout his youth, Michael enjoyed being with family and friends at his family's summer home in Naubinway, on the north shore of Lake Michigan.
His love for music began early and in addition to many other musical achievements, he was a percussionist in the Chicago Youth Symphony and later a professional drummer.
He earned his mechanical engineering degree from University of Illinois, Champaign, where he was a member of Delta Sigma Phi fraternity.
After college, Michael moved to California, became a member of the Screen Actors Guild and worked in the entertainment industry. He appeared on several network television programs, commercials, and in print advertising.
Michael discovered a love for the Pacific Northwest, moved to Seattle and earned a master's degree in business administration at the University of Washington. His corporate career included management positions with John Deere, Paccar, and most recently with Silver Eagle Manufacturing Company, Portland, Ore., as vice president of sales and support.
Drawn by the abundance of beauty and recreation, Hood River became Michael's home that he shared with his two children, Geoffrey and Mackensey, and his loving partner, Marsha. Michael's most treasured times were spent with his family, whether it was skiing at Mt. Hood Meadows, hiking the Gorge or being at home.
Michael will be dearly missed by his loving family and is survived by: his companion, Marsha Davis, of Hood River; two children, Mackensey Ann King and Michael Geoffrey King, of Portland and Hood River; his mother, Anne Grettenberger King, of Burr Ridge, Ill.; his sister and brother-in-law, Elisabeth and Kurt Steinbrenner, and their children, Erik and Anna Lisa, of Bartlett, Ill.; and his brother and sister-in-law, Randy and Judy King, and their children, Sarabeth and Emmy, of Signal Mountain, Tenn.
He is preceded in death by his father, Richard King.
Michael will be missed for his sense of humor, his wit and belief that "If you can laugh at yourself, you'll have a lifetime of entertainment."
Services to mourn Michael's passing and celebrate his life are planned for 3 p.m. Saturday, May 16, at the Crag Rat Hut, 1712 Crag Rat Hut Road, near Pine Grove in the Hood River Valley.
Memorials are suggested in memory of Michael to either the OHSU Neuro-Oncology Blood-Brain Barrier Program or Hospice of the Gorge and sent in care of Anderson's.
Arrangements are under the direction of Anderson's Tribute Center (Funerals, Receptions, Cremations), 1401 Belmont Ave., Hood River, OR 97031; 541-386-1000. Please visit www.andersonstributecenter.com to sign the family guest book, view a special video montage and get directions to the Crag Rat Hut.