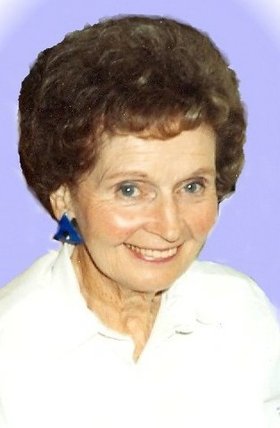 Virginia "Eileen" Eileen Bostwick
March 8, 1926 - May 22, 2009
Virginia Eileen (Evans) Bostwick died with her loving family close by, on May 22, 2009, after a courageous battle with cancer. She fought cancer the way she lived her life, with all of her strength and determination. Eileen was sustained throughout her life by her deep faith in God.
Eileen was born March 8, 1926, in Tillamook, Ore., to Rev. B. Ross and Ruth Evans. She began her schooling there and in 1934 the family moved to Corbett, Ore., where she attended Corbett Grade School. She later spent a year in Eugene, Ore., until the family moved to Hood River in 1936. Eileen graduated from Hood River High School in 1944.
After graduation she was employed at the United Telephone Company of Hood River. Eileen was married to George E. Bostwick Sept. 9, 1946. George had been Eileen's high school sweetheart and recently returned from serving in the Navy during World War II. Eileen and George had two children: Tom Bostwick, of Hood River, and Annette Owen, of Independence, Mo.
After Tom was born Eileen and George moved to Sweet Home, Ore., for several years where George was employed in the lumber business. They returned to Hood River and bought a home on Belmont Drive.
After building a new home on the same Belmont property they adopted a sister for Tom. Annette Bostwick Owen. George was employed with the United Postal Service until he retired.
Eileen and George were longtime members of the Valley Christian Church where they were very active in the church. Later they joined the Odell Baptist Church and Eileen became the church organist and they were very active members.
They later transferred to the Tucker Road Baptist Church where Eileen became the organist there. They were both very active in the church until George's death in 2004. Eileen continued playing the church organ until her health kept her from participating.
When George retired from the Postal Service they bought a home on Eliot Drive.
They both loved to travel and they took many wonderful trips throughout the United States, Canada, and Mexico. They enjoyed several trips to Hawaii.
Eileen's greatest loves were her music, sewing, her flower garden and being a devoted wife and mother. She had many accomplishments in her lifetime and had many friends. She was a volunteer at the Hood River Historical Museum, a member of the Hood River Historical Society and a member of the Tucker Road Baptist Church.
In addition to her parents, Eileen was preceded in death by her brother B. Ross (Pat) Evans, killed in World War II on Guam.
Eileen is survived and will be dearly missed by her son, Tom Bostwick, and daughter, Annette Owen; brother, Rev. Fred Evans, of Corvallis; sisters Ruth Wickensham, of Jacksonville, Fla., and Dorothy Radliff, of Hood River; grandchildren Marsha Schneider, Mary Bostwick, Josh Owen and Becca Deeds; and other distant family members.
Funeral services will be held at the Hood River Valley Christian Church, 975 Indian Creek Road, at 1 p.m. Friday, May 29. A reception will follow the service, then interment at Idlewilde Cemetery.
Arrangements are under the direction of Anderson's Tribute Center (Funerals, Receptions, Cremations), 1401 Belmont Ave., Hood River, OR 97031; 541-386-1000. Please visit www.andersonstributecenter.com to sign the family guest book.