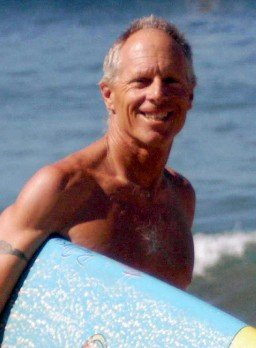 Charley LaVenture
January 22, 1948 - October 27, 2009
Charley LaVenture, age 61, died peacefully in Boulder, Colo., on Oct. 27, 2009, from a rare form of leukemia (CMML). He was surrounded by friends and family during his final days.
Charley was born in San Diego, Calif., Jan. 22, 1948, and spent his 21st birthday in Vietnam in the Marine Corps. He and Sally met in Portland in 1972 and they moved to Hood River in 1975.
In Hood River, he liked to think of himself as "the village potter," creating mugs and dinnerware, as well as pieces of art, for all to enjoy. Sally owned Waucoma Bookstore for many years and his pottery was always featured in the front window.
Charley and Sally raised two wonderful daughters in Hood River, Rainy and Willow, who later moved to Colorado to continue their schooling and begin their careers.
Charley loved the outdoors. Surfing was his first love, but he took up sailing, windsurfing and snowboarding in the 1980s. Those sports were soon followed by kayaking and telemark skiing, as well as mountain biking and road biking. Biking was the one activity he was able to enjoy right up until a month before he died.
Another of his favorite pastimes was meeting people for coffee at The Coffee Spot and later at Dog River Coffee. He made many friends along the way, often a generation or two younger.
He inspired those around him with his love for his family, as well as his zest for life. His slogan that helped him through the difficult days near the end of his life was "patience, persistence and perspective."
When he was diagnosed with leukemia, Charley felt strongly that he wanted to live near his daughters. He and Sally moved to Boulder, Colo., in July 2008, and in February, Rainy's first child, Noah, was born. The time he had in Colorado was well spent; many meals, hikes, and bike rides were shared with Rainy and Willow. He loved being a grandpa; even during his final days Charley would smile when Noah entered the room.
Charley will be missed dearly by his wife, Sally; his two daughters, Rainy and Willow; his grandson, Noah; his son-in-law, Adam Tarr, and his soon-to-be son-in-law, Adam Engel; as well as friends scattered far and wide, many of whom flew to Boulder to be present during his final weeks.
Charley lost his insurance coverage in the move to Colorado because of his pre-existing condition. The Veterans Administration stepped in, and provided excellent healthcare and support throughout his illness.
Memorial funds have been set up with Veterans Helping Veterans Now (P.O. Box 17158, Boulder, CO 80308) as well as Hospice Care of Boulder and Broomfield Counties (2594 Trailridge Drive East, Lafayette, CO 80026).
A celebration of his life will be held in Hood River at a later date.