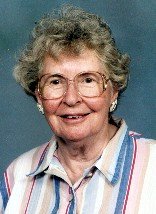 Alice Elizabeth Calkins
April 15, 1916 - October 14, 2009
Alice Elizabeth Johnson was born April 15, 1916, to Nina Shay Johnson and Benjamin Johnson. She was born at The Stork's Nest, her Grandmother Shay's maternity hospital, in Hood River. She joined an older sister, Frances, and a brother, James.
As she was a preemie, she was wrapped in cotton wool and kept in a box in the warming oven until she was stronger. Her family moved to the foothills of the San Gabriel Mountains, out of Los Angeles. When she was 6, her mother died of cancer. Her father raised the three children.
Every summer, her father drove the family to Hood River for a month's visit. When she was about 12, her father took her out of school and they traveled for a few years. She got her history lessons going to historical sites and reading about them, did her arithmetic by keeping all the financial records for the car, meals, hotels, etc., did her science by reading about the natural wonders and then seeing them, and read aloud to her father as they drove. Her favorite book from that time was "A Tale of Two Cities." They went to history and art museums and visited all along the way.
When she was ready for high school, Grandma Shay decided it was time she had a woman's influence and she moved to Hood River. She loved school here; played sports, marched in parades, helped on the "ranch" as the chicken farm was called, and walked down and up the stairs from the Heights to swim in the river as often as she could.
She married Gordon Manser and had two daughters. When she found herself a single mother, she got a job, bought a small house and made a different family composed of mother, daughters and many friends and relatives. She worked for the Oregon Fish and Game Commission and then moved to Arizona and later to California, working for Fish and Game, and Water Quality in both states. She married Robert Calkins and was later widowed.
Alice was very active in the Unitarian Church in Sacramento, in suicide prevention work; was a Senior Gleaner for many years; an active genealogist; a school volunteer for all her grandchildren and great-grandchildren; a volunteer in the Women's Health Initiative; and very active politically.
She was a woman of great warmth, enthusiasm and energy. She believed if she worked hard enough and wanted something enough, it would happen. It usually did — except the time she made wings and jumped off the garage roof to fly.
She had a wonderful sense of humor and laughed at herself, too. She loved to travel and took great pleasure in different cultures. She was interested in everything, but people most of all. She loved and was loved by a large and diverse group. She was devoted to her family most of all.
Alice died in Sacramento on Oct. 14, 2009. She is survived by her daughters: Janet Lamont, of Sacramento, and Marilyn Manser Avolio (Gennaro), of Hood River; eight grandchildren, 12 great-grandchildren and one great-great-granddaughter. She will be interred in Idlewilde Cemetery in the spring.