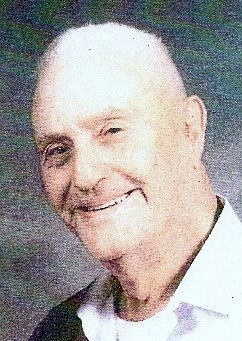 James "Jim" Franklin Hester
July 4, 1918 - November 13, 2009
James "Jim" Franklin Hester, 91, a resident of The Dalles, Ore., passed away at a care facility in Hood River, Ore., on Friday, Nov. 13, 2009.
He was born in Nevada, Mo., on July 4, 1918, third child to Arthur H. and Minnie C. (Cooper) Hester. He grew up in Missouri where he attended school. He served in the U.S. Army in the South Pacific for five years.
Jim married Ruby Ethel Lee Sappington in Carson, Wash., on Aug. 23, 1947.
He worked for the Department of Transportation, was a member of The American Legion of Antelope, Ore., and enjoyed hunting, fishing, gardening and spending time with his grandchildren and great-grandchildren.
He is survived by his wife, Ruby Hester, of The Dalles; his children, Jim Hester and wife Linda, of Aurora, Ore., Darlene Davis and husband Joe, of The Dalles, Lori Newson and husband Bob, Eula Oswald, of Hood River, and Dennis Hester and wife Pam, of The Dalles; he is also survived by 15 grandchildren: Jim Jr., Annette, Mike, Deanna, Marty, James E., Wanda, Patty, Loucianna, Dorothy, Saiopy, Dennis, Tammy, Kevin, and Thomas; and 31 great-grandchildren.
He was preceded in death by his parents; three brothers: William, Adin and Eddie; his sister, Kathy, and grandson, James Arthur Jr.
Viewing will be held on Saturday, Nov. 21, from 9 a.m. to noon at Spencer, Libby and Powell Funeral Home, 1100 Kelly Ave., The Dalles, with graveside service to follow at 1 p.m. at IOOF Cherry Heights Cemetery with Pastor Clyde Sanda officiating.
In lieu of flowers donations may be made to Hospice of The Gorge, 1630 Woods Court, Hood River, OR 97031.