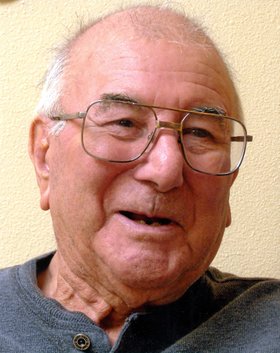 Wesley Vann
October 31, 1920 - October 10, 2009
The Vann family is saddened to let you know that Wesley Vann passed away on Oct. 10, 2009, at Brookside Manor with his wife, Genevieve, by his side. We were getting ready to celebrate his 89th birthday in 21 days and his 64th wedding anniversary on Nov. 24. While we will miss him dearly, we are grateful for his wonderful, long life filled with kids, grandkids, great-grandkids, brothers and sisters and many friends. Hood River was his home; owning and driving log trucks were his work and he loved it here.
Wesley is survived by his wife, Genevieve, of Hood River, and their three children: son Terry of Olympia, Wash., son John and his wife, Terri, of Hood River, and daughter Debi, of Rhododendron, Ore. He is also survived by two daughters from a previous marriage: Sanoma Hatfield and her husband, Dee, from Salt Lake City, Utah, and Pricsilla Weber and her husband, Cal, of Gresham, Ore.
Also surviving are seven grandchildren: Jason Vann and his wife, April, Jonquil Vann-Tessmer and her husband, Zach, Jared Vann, Debra Konell, Shannon Webber, Andrew Webber and his wife, Dione, and Gaylene Varoz; 11 great-grandchildren and one great-great grandson.
His brother Billy Vann and sister-in-law, Tillie, of The Dalles, and sister Sue Lavoie and brother-in-law, Al, of Las Vegas, Nev., also survive.
He was preceded in death by his mother and father; four brothers: John Walker, Grover, Donald Lee and Leon; and two sisters, Wilma Lee and Joann.
Wesley was born on Oct. 31, 1920, in Euchie, Okla., to John and Elsie Vann and was the eldest of their nine children. He came to Oregon when he was 22. It was the Depression era and the area in Oklahoma where his family lived was a dust bowl.
He left Oklahoma to work as a truck driver for the CCC and came out west with his brother Grover to find work at the shipyards in Vancouver, Wash.
He loved to tell us that he saw Genevieve crossing a street in McMinnville, Ore., and told his brother that was his future wife. They met later at the Blue Moon Fountain and, sure enough, they got married; much to the chagrin of her father.
Since Genevieve was a mouthful to say, her nickname was Jimmie. Wesley thought that was too masculine so he called her Jennie, and took her to meet his family.
Wesley came back to Oregon to visit a Hood River friend and he and Jennie got a place to live at Dee. He had lots of stories about Oregon Lumber Company and Dee, the "company town" with a dead-end main street. He was fond of reminding us about the rowdy nightlife and the early days of logging.
Wesley was proud of his Cherokee ancestry and was know as "Chief" in his early Hood River years; some folks still know him by that name.
It was not long before his family decided to move away from the reservation and join Wesley and Jennie in Hood River. They also reconciled with Jennie's father, Harvey, and he and Wesley built the Orchard Road house that they lived in for 53 years. Many family-and-friend holiday gatherings occurred at the Vann house.
Wesley owned and operated a small fleet of trucks, hauling logs for logging contractors in the Hood River Valley for many years. He retired in 1984.
During his retirement years he and Jennie traveled and fished at the Snake River with childhood friend Jim Haggard and his wife, Leona.
They went to Alaska for three extended visits to fish and visit Hood River friends, taking their grandson Jared on one trip with them. They took their granddaughter Jonquil to Oklahoma on one of their trips. They spent time in Mexico with daughter Pricsilla and her family.
In fact there are pictures of Grandpa in some fluorescent orange shorts that grandson Andy gave him on that trip. They always knew where he was on the beach in those shorts, much to Andy's delight.
Wesley was an avid outdoorsman and took his family on many trips throughout the years. He did not like flying, so going anywhere was a road trip.
On one trip to pick up a new log truck in Detroit they went by train and endured frozen train tracks, a snow storm that shut down all the trains behind them and the train's food supply ran out. We never let him forget that experience.
Wesley was active and supportive of his children and grandchildren in their various activities. He could be seen walking the sidelines of Wy'east and Hood River Valley high school football fields, in the stands at basketball and baseball games, and going to high school and community theatre plays. He was a very proud and involved dad.
Terry says "Dad taught me a strong work ethic. I could never understand why we had to work on the weekends to keep the trucks maintained and why I had to wash every logging truck on Sunday afternoon so it would be bright and shiny on Monday morning to get muddy or dusty by Monday night.
"We had a great time celebrating all the holidays, and especially his birthday and Halloween because it was the same day. He had a great time at these gatherings of family and friends and made sure everyone felt included and that Mom had plenty of food. He was a great host and it rubbed off."
"He had a laugh that was infectious; when he would tell a story you would be laughing right alongside of him" Debi said. "I loved that twinkle in his eye and his great smile. All of us kids did inherit his sense of humor. And I loved washing the trucks; I got paid to do it; maybe Terry didn't!"
John just told us that "this is too long — end it now." He inherited Dad's sense of timing: Know when to go home.
Thanks, Dad, for sharing a full life with us and teaching us about being the "love of Mom's life" for 64 years. We love you so much.
We will be celebrating Wesley's life and share a story or two on Saturday, Oct. 17, at 10 a.m. at Anderson's Tribute Center with a reception to follow. The family suggests donations to the American Diabetes Association in Wesley Vann's name and sent care of Anderson's.
Arrangements are pending, under the direction of Anderson's Tribute Center (Funerals, Receptions, Cremations), 1401 Belmont Ave., Hood River, OR 97031; 541-386-1000. Please visit www.andersonstributecenter.com to sign the family guest book.