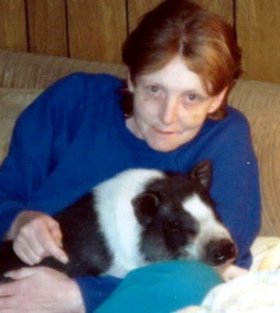 Christy Rose Britt
December 3, 1946 - October 9, 2009
Friday, Oct. 9, 2009, my love left, surrounded by the love of family and friends, to live free of pain and to walk among the angels.
Christy Rose Vanek Britt was born Dec. 3, 1946, in Hood River, Ore., to Chuck and Bebe Vanek, where she spent her youth and graduated from Wy'east High School. She would say "It was the best place in the world to grow up, with friends for a lifetime and a zest for life."
She was up for any adventure, with one rule: "Right is right and wrong is wrong," from which she never wavered. She loved the outdoors, loved her dogs, cats and pet pigs, and loved playing poker and pool with friends. She fought and defeated many windmills during her life.
Christy was preceded in death by her mother, Bebe; son, Todd Lewis, and stepmother, Alma Vanek.
She is survived by her husband, Phil Britt, of Amity, Ore.; father, Chuck Vanek, of Hood River; brother, Brad Vanek, of Rainier, Ore.; stepsister, Sharon Herman-Ingram, and stepbrother, Chris Herman, of Hood River; and many nieces and nephews and good friends.
Christy, my love, I can't and won't say, "Good Bye." Until we are together again, all I can say is, "I love you."
Services were held at the Klickitat County Cemetery, District 95 Snowden Road, White Salmon, Wash., on Saturday, Oct. 17. Arrangements were under the direction of Crown Memorial Center, Tualatin. Send online condolences at www.ANewTradition.com.