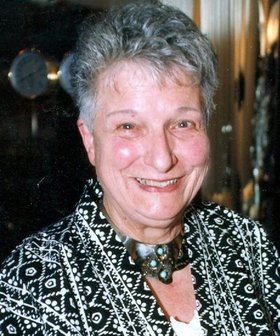 Jacqueline "Jackie Dee" Dolores Betts
December 4, 1923 - October 23, 2009
Jacqueline Dolores Betts (Jackie Dee) of Hood River, Ore., passed away peacefully Friday, Oct. 23, 2009, at Providence Hood River Memorial Hospital.
A memorial service to mourn her passing and celebrate her life is plan­ned for 4 p.m. Friday, Oct. 30, at Anderson's Tribute Center in Hood River.
Jacqueline was born Dec. 4, 1923, in Wenatchee, Wash., to Julius and Edith (Duhn) Freidman. She attended West Seattle High School, graduating in 1942, and went on to attend the University of Washington graduating as an art major in 1944.
During World War II she worked in the Overseas Supply Division Port of Debarkation in Seattle, Wash.
In 1946 Jackie worked for McDonald Aircraft in St. Louis, Mo., where Chuck and she met on a train traveling between St. Louis and Chicago. Chuck at that time was on Navy Shore Patrol and offered Jackie his seat and it was all over after that.
On July 18, 1947, Jackie and Chuck married in Georgia, Chuck's home state. After they were married they moved to Seattle. Jackie was afraid to tell her father that she was married, so they had another wedding in Seattle on July 18, 1947.
Jackie as a youth enjoyed a variety of outdoor activities, including horseback riding, skiing, tennis, travel and painting. She was an accomplished painter.
Jackie moved from Washington to Anchorage, Alaska, in 1951 with her husband and newborn first son, Marc. Jeff, her second son, was born in Seattle; after Jeff's birth Jackie returned to Anchorage.
Jackie and her family returned to Seattle in late 1955 in time to have the birth of her third son, Charles.
In 1962 Jackie had her family moved to Portland, Ore., where she and Chuck started two men's clothing stores.
In 1971 Jackie and Chuck moved to Sunriver, Ore., where they stayed until 1982. In Bend, Jackie opened the Bend Mercantile, one of the very first art and gift stores to open in Central Oregon.
In 1982 Jackie and her husband moved to Hood River, Ore., where Jackie started a new retail store known as Jackie Dee's Town Shop, a small gift store that was the first of its kind in the Old Paris Fair Annex, downtown Hood River. It had a line of women's and men's clothing, local art work, candies and was the first store to have a coffee grinder where fresh coffee beans could be purchased and ground on-site.
In 1984 Jackie and her husband purchased the Fruit Tree from Diamond Fruit Growers. In 1989 Jackie and Chuck relocated the Fruit Tree to Westcliff Drive and renamed the business to Jackie Dee's Fruit Tree, where she expanded her ladies boutique and expanded the fruit and fruit gift pack business.
In 1995 the business was sold and Jackie and her husband moved to The Dalles, Ore., retuning to Hood River in 2008.
Jackie is survived by her husband, Charles Betts; their sons and families: Marc and Elaine Betts, of Hood River, Jeff Betts, of Arlington, Va., and Charlie and Victoria Betts, of Vancouver Wash.; grandchildren Robert Betts, Lesley Lowe, Danielle Holladay, Steven Betts, Jacob Betts and Jessica Betts; and great-grandchildren Keith and Kyleigh Betts.
Memorials can be made to the Oregon Food Bank in Jackie's name and sent care of Anderson's.
Arrangements are under the direction of Anderson's Tribute Center (Funerals, Receptions, Cremations), 1401 Belmont Ave., Hood River, OR 97031; 541-386-1000. Please visit www.andersonstributecenter.com to sign the family guest book.