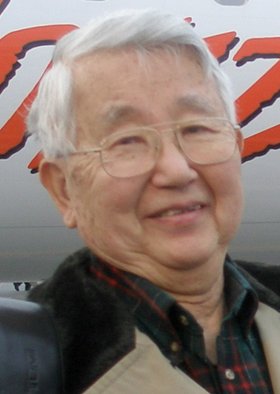 Henry I. Akiyama
April 18, 1927 - April 9, 2010
Longtime Juneau resident and well-known physician Dr. Henry I. Akiyama joined his wife, Grace, in heaven on Friday, April 9, 2010, after a brief struggle with B-Cell lymphoma cancer. He spent his final days at home with his daughter Lisa and his son Alan by his side, receiving prayers, cards, e-mails and visits from his many friends, patients, and staff.
Henry was born on April 18, 1927, in the small farming community of Hood River, Ore., to Tomeshichi and Itsu Akiyama, the youngest of five children. Growing up during the Depression was filled with privation for the Akiyamas, but they were a close-knit family, and their fruit orchards and vegetable gardens sustained them.
At the age of 14, shortly after the United States entered World War II, Henry was incarcerated along with his mother and sister and more than 100,000 Japanese Americans for three years in concentration camps in Pinedale and Tule Lake, Calif., and Minidoka, Idaho. While in camp he completed high school in three years and graduated at the top of his class as valedictorian.
Henry returned to Hood River after the war and experienced firsthand racial intolerance toward Japanese Americans by many, including former friends and neighbors. Wanting to prove his patriotism, he joined the U.S. Army in 1945, serving in an occupational force in Italy with the all-Nisei 442nd Infantry. He rose to the rank of sergeant before his discharge in 1948.
Henry attended Reed College in Portland, Ore., on the GI Bill. He started out with a social science major but in his sophomore year his advisor planted the seed for a career in medicine.
It was at Reed that he met fellow student Grace Ebihara, and they were married on Sept. 7, 1952. In 1953 Henry received his Bachelor of Arts degree and subsequently attended the University of Oregon Medical School, graduating in 1957. He served his internship and residency at St. Vincent's Hospital in Portland, Ore., from 1957 to 1961. He and Grace had two children, Lisa and Alan.
Dr. Akiyama moved to Juneau, Alaska, in 1961, after being recruited by the Juneau Medical Clinic. He worked there for five years before starting his own practice at a medical-dental clinic on Glacier Avenue.
His specialty was cardiology and he was dedicated to improving coronary care. He helped establish coronary care units in both St. Vincent's Hospital in Portland and Bartlett Memorial Hospital in Juneau. He also helped develop a heart-related teaching program and trained CCU nurses.
In 1969 Dr. Akiyama helped create the Mobile Coronary Care Unit in Juneau. He went to the scene of every cardiac arrest in the Juneau City Borough from 1969 to 1982. Dr. Akiyama assisted with training Juneau's emergency medical technicians. He personally went on 17 helicopter and four fixed-wing rescue missions to surrounding mountains, sea, glaciers and communities.
Providing humanitarian service was Henry's love and his mission. He dedicated his life to his patients and his community. He retired from medical practice on Oct. 15, 2004, after 43 years.
Henry enjoyed boating, fishing and hunting with family and friends. He loved gardening and his garden at the clinic was admired by all.
After retirement, his medical conditions limited his travel and outdoor activities, but he discovered that reading non-medical books and journals was enjoyable, too. He was an avid sports fan and enthusiastically followed his Oregon State University Beavers, the Los Angeles Lakers, the St. Louis Rams, and especially his beloved New York Yankees.
Henry continued to support Grace's passion for music by establishing the Juneau Alaska Youth Choir's Grace T. Akiyama scholarship fund and served on its board of directors.
His medical service includes: the Federal Washington-Alaska Medical Advisory Council (1968-1973); Juneau's City Health Officer (1962-1972); appointed by governors Egan and Hickel as president of Alaska State Medical Board (1963-1974); president of the Alaska Heart Association; appointed Alaska's First Governor to the American College of Cardiology (1983-1986); and, appointed by U.S. Secretary of Health and Human Services Donna Shalala to the National Committee on Rural Health (1995).
He received a number of prestigious awards and honors, including: Juneau's First Man of the Year Community Service Award (1977); the Congressional Citation by U.S. Sen. Ernest Gruening; Honorary Doctor of Humanities, University of Alaska Juneau (1986); Honoring Citation from Alaska State Legislature (1986); Professional Service (32 years) Citation by the U.S. Department of Transportation, Federal Aviation Administration (1993); Grand Marshall of the Juneau Fourth of July Parade (1996); Bartlett Regional Hospital Heritage Award (1977); Honoring Citation from the Alaska State Legislature (2005); and the Outstanding Community Service Award, the first one awarded by Virginia Mason Medical Center (2005).
Henry was preceded in death by his parents, Tomeshichi and Itsu Akiyama; his wife, Grace; and his brother-in-law, Tom Ichikawa.
He leaves behind his children, Lisa Akiyama (Brad Rupert), of Arvada, Colo., and Alan Akiyama, of Juneau; his sister, Kiyo Ichikawa, of Owego, N.KY.; brothers George, Noburo and Saburo, of Hood River, Ore.; two grandsons, four great-grandchildren and seven nieces and nephews.
Donations in lieu of flowers can be made to Hospice and Home Health Care of Juneau or the Juneau Alaska Youth Choir's Grace T. Akiyama Scholarship Fund, or a charity of their choice. A date and time for his Celebration of Life service will be announced at a later date.