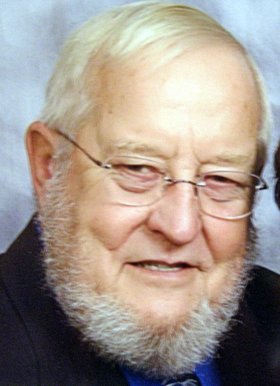 James "Fritz" Cedric Streufert
July 20, 1941 - August 10, 2010
James "Fritz" Cedric Streufert, a resident of the Cornelius, Ore., community (formerly of Hood River) died Tuesday, Aug. 10, 2010, at his home. He was 69 years old.
A celebration of Fritz's life will be held at 11 a.m. Saturday, Aug. 21, at St. Peter's Evangelical Lutheran Church at 4265 S.W. Golf Course Road, Cornelius, with Pastor Michael Warmbier officiating. Private family interment will be held at St. Peter's Lutheran Cemetery in Blooming.
Fritz was born on July 20, 1941, in Glencoe, Minn., the son of Herbert and Norma Streufert. The family moved to Seattle, Wash., where he enjoyed football and graduated from Lincoln Union High School.
He served in the United States Army Special forces, doing three tours of duty in Vietnam.
His formal education includes a math degree from Multnomah Community College (now Portland Community College) and course completion at Le Cordon Bleu, also in Portland.
His interests often merged with work (a meat cutter early in life and meat processing later). He was known for his sausage and curing skills, and worked under the supervision of a local rabbi in kosher protocol. He worked for Safeway Stores, helping open several outlets, meanwhile owning and operating his own mobile slaughter and processing business in Hood River.
Cars also caught his eye. He did custom Corvette work earlier in life and progressing to vintage cars later. He was a charter member of Inliners International and participated in their activities until his passing.
He also served the community as a deputy sheriff, a custodian at Wy'east and later at Mid Valley schools in Hood River County.
Work was his motivation and people, his passion. Working or playing, people gravitated to his personable nature. He was a longtime member of St. Peter's Evangelical Lutheran Church in Cornelius. He was known for comforting troubled souls with his caring words.
On Sept. 9, 2000, he married Gail Elaine Ohlund, who survives him along with six children and their mates: Johnathan and Tami Ohlund, of Trail, Ore., Jerry and Roxanne Ohlund, of Meridan, Idaho, Dennis Ohlund and Elizabeth, of Athens, Mich., Katrina Melton, of Cincinnati, Ohio, Derrick Streufert and Molly, of Parkdale, Ore., and Heidi Streufert and Tryan, of Astoria, Ore.
One brother and sister-in-law, David and Linda Streufert, of Deer Lodge, Mont., and one sister and brother-in-law, Joan and Glenn Stocker, of Selah, Wash., and 10 grandchildren, Steven, Mary Jane, Jennifer, Tiffany, Kairi, Lizette and Merrick Ohlund and Emma, Jaxson and Parker Streufert, also survive.
The family suggests remembrances in his honor be given to St. Peter's Evangelical Lutheran Church Memorial Fund, at 4265 S.W. Golf Course Road, Cornelius, OR 97113.
To sign the online guest book or send condolences to the family go to www.fuitenrosehoyt.com.
Fuiten, Rose & Hoyt Funeral Home is in charge of arrangements; 503-357-2161.