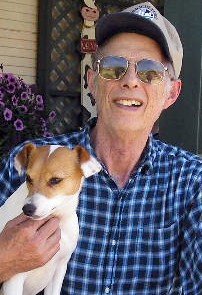 George Van Harth
March 21, 1943 - August 16, 2010
George Van Harth, 67, a lifelong resident of The Dalles, Ore., passed away at his home on Monday, Aug. 16, 2010. He was born in The Dalles on March 21, 1943, the older of two children to George R. and Ople P. (Van Schoiack) Harth.
George grew up in The Dalles, graduating from The Dalles High School in 1962. He served in the U.S. Army and the National Guard, receiving an Honorable Discharge in 1969.
George married Marcia LaDuke in The Dalles on May 30, 1998. He owned and operated a wheat ranch and was interested in electronics, physics and chemistry.
He is survived by his wife, Marcia LaDuke, of The Dalles; two sons and their wives, Curtis Van Harth and Lisa, and Jeffrey Allen Harth and Valarie, all of The Dalles; stepson Peter LaDuke and his wife, Susan, of Myrtle Creek, Ore.; stepdaughter Jennifer LaDuke Jesch, of The Dalles; grandchildren Megan, Trever and Caleb Harth, Bailee Wright, Jaylan LaDuke and Karen Jesch; his mother, Ople Harth; and his brother, Neal Harth and his wife, Bonnie.
He was preceded in death by his father.
A celebration of life and barbecue will be held on Saturday, Aug. 28, at 4:30 p.m. at Dufur City Park.
Memorial contributions can be made to the Van Harth Science and CEP Fund at The Dalles Middle School.