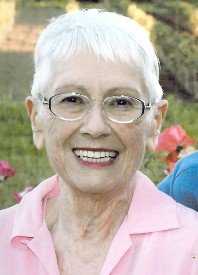 Dorothy Irene Swyers
February 13, 1927 - November 25, 2010
Dorothy Irene Swyers, 83, passed away on Nov. 25, 2010, at Hawks Ridge Assisted Living in Hood River with her daughter by her side.
Services to honor Dorothy's life are planned for 11 a.m. on Saturday, Dec. 4, at the Hood River Valley Christian Church Disciples of Christ, 975 Indian Creek Road. Graveside rites will follow at the Pine Grove Butte Cemetery.
Viewing is scheduled for Thursday and Friday from 9 a.m. to 4 p.m. at Anderson's Tribute Center.
Dorothy Irene Anglin was born Feb. 13, 1927, in Tacoma, Wash., the youngest of four children born to Vert and Idis Ebbert Anglin. She had one sister, Ruth, and two brothers, Victor and John Alvin.
Her father was an evangelist and Nazarene minister and the family lived in many places throughout Oregon and Washington during Dorothy's childhood, moving from town to town as he served various congregations.
Dorothy loved her mother dearly but had a rather tumultuous relationship with her father, due to his authoritarian approach to child rearing. As a teenager, she was sent to Nazarene boarding school in Idaho. Unhappy but determined, after seven months there she liberated herself and finished her education in Portland while living with her sister, Ruth.
Ruth introduced her to Dayrl Swyers, a young man from Hood River who worked for Pacific Northwest Bell Telephone Company. Dayrl was immediately smitten and followed Dorothy around for weeks before she agreed to go out with him.
They were married on Sept. 8, 1945, and had two daughters: Melissa, born in 1946, and Darlyn, born in 1950.
In 1950, Dayrl and Dorothy bought a house on 118th and San Rafael in Portland. He became an apprentice cable splicer for the telephone company while she attended beauty school and then went to work at the White House Salon on 46th and Sandy Boulevard. While Dayrl worked his way up to foreman, Dorothy worked at the White House Salon of Beauty before deciding to open her own salon, which was rare for a woman at the time.
Thanks to the backing she received from longtime family friend Riddel Lage, she was able to open Missi's Salon of Beauty, which she ran until she was forced into retirement by her poor health. She was a fair and reasonable boss who treated others with respect and grace and was one of the first small business owners in Portland to offer health insurance to all her female employees and their families.
Both of her daughters worked at the salon in their youth. Her daughter Darlyn followed her in becoming a hairdresser. Melissa became a registered nurse.
Dorothy was an expert caregiver, and Dayrl and Dorothy often took in friends and family members who needed extra care and access to medical services in Portland.
In 1982, Dayrl and Dorothy retired and moved back to Dayrl's home town of Hood River, Ore. Dayrl served as the caretaker for Pine Grove Cemetery and Dorothy was the bookkeeper for several years. They also enjoyed trips to Hawaii and Mexico with their close friends Jane and Malcolm Fuller, but their travels were cut short when her father moved to their property.
Dorothy cared for him for a decade, providing three meals a day, housekeeping and care giving services without fail.
Dorothy was a hospice volunteer in her retirement years, despite her own poor health. She provided support and comfort to many patients and was recognized as a volunteer of the month for her work.
Dorothy was very proud to be a member of Aloha Club, a ladies social club in Hood River Valley. She enjoyed hosting club members and sharing her grandchildren's accomplishments with the group.
Dorothy enjoyed needlepoint and embroidery and made tablecloths, pillow cases, table runners and other embroidered items for her children and grandchildren. Her handiwork was perfect, although she didn't enjoy sewing on a machine.
Dayrl tended a huge garden, and Dorothy was an expert at canning and preserving. Her spicy dill pickles, pickled beets and canned fruits were coveted by the family.
Dayrl and Dorothy loved each other deeply. They had few disagreements during their more than 62 years together and had tremendous mutual respect for one another.
During her final years, Dorothy suffered greatly from breathing problems brought on by the decades she spent in a beauty salon filled with harsh chemicals and cigarette smoke. Through sheer will and determination, she was able to care for Dayrl at home during his final years despite her breathing problems. She missed him terribly after his death, and talked often of her desire to be with him and with her mother again.
Dorothy was preceded in death by her husband, Dayrl, who passed on June 23, 2008.
She is survived by her daughter Melissa and son-in-law Robert Wittenberg of Underwood, Wash., her daughter Darlyn and son-in-law Craig Ivie of Veneta, Ore.; seven grandchildren: Leighann "Annie" Ogan and her husband, John, of Sisters, Ore., Scott Ivie and his wife, Lisa, of Bend, Ore., Libby Calnon and her husband, Rick, of Columbia City, Ore., Melodie Ivie, of Eugene, Ore., Mary Macklin and her husband, Tory, of Veneta, Jill Ivie, of St. George, Utah, and Randy Ivie and his wife, Mariana, of Eugene.
She is also survived by five great-grandchildren: Matthew Dayrl Ogan, Emily Claire Ogan, Jack Robert Ogan, Liam James Macklin and Logan Scott Ivie; and one brother, John Alvin Anglin, of Twin Falls, Idaho.
In addition to her parents, she was preceded in death by her sister Ruth and brother, Victor.
The family suggests that any memorials be made in memory of Dorothy to Providence Hospice of the Gorge and sent in care of Anderson's.
Arrangements are under the direction of Anderson's Tribute Center (Funerals, Receptions, Cremations), 1401 Belmont Ave., Hood River, OR 97031; 541-386-1000. Please visit www.andersonstributecenter.com to leave a note of condolence for family.