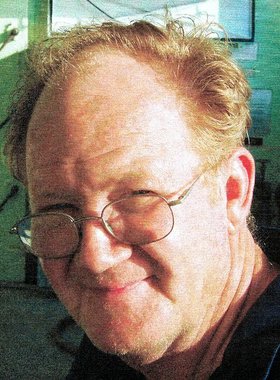 Jalmar "Sandy" Cornelius Bell
March 16, 1947 - November 27, 2010
Jalmar "Sandy" Cornelius Bell, 63, a resident of The Dalles, Ore., passed away at his home on Saturday, Nov. 27, 2010. He was born in Longview, Wash., on March 16, 1947, the oldest of three siblings, third in a line of seven in a blended family.
He grew up in Portland, Ore., graduating from David Douglas High School in 1965. After high school he joined the U.S. Air Force and served from 1965 to 1967 in Vietnam and Germany, receiving an honorable discharge.
Sandy married Kathleen Lee Griffith on Dec. 7, 1975. He worked for the U.S. Army Corps of Engineers, Portland District on the Dredge Biddle, 1975 to 1982, and Dredge Yaquina, 1987-89. In 1983 he transferred to The Dalles Dam and then transferred to Philadelphia district on the Dredge McFarland from 1989 until his retirement in 2001.
He started as a boiler-water tender and worked his way up to second assistant engineer. Sandy also served on research vessels for Oregon State University and Woodshole, Mass., for a short period of time, and worked on the Empress and Queen of the West Riverboats on the Columbia River. Upon his retirement he worked as a merchandiser in the Northwest.
He is survived by his mother, Patricia Bales, of Florence, Ore.; his wife, Kathleen, of The Dalles, Ore.; his children, Claudia McCurdy, Tina Fountain, Patricia Miller and her husband, Bill, Sandra Jones and her husband, Douglas, Sue Love, Douglas Truex, Johnathan Truex, Nicole Barlow and her husband, Dave, and Kimm Loving and her husband Tom; his siblings, Ronald Smith and his wife, Patricia, Allan Smith and his wife, Delores, Bruce Smith and his wife, Nora, Mark Smith, Melodee Nichols and her husband, Tim, and Michael Bell and his wife, Dondi; 18 grandchildren; 12 great-grandchildren; and numerous extended family, nieces, nephews, and great-nieces and great-nephews.
Viewing will be held on Friday, Dec. 3, from 10 a.m. to 12:30 p.m. at Spencer, Libby and Powell Funeral Home with a graveside service to follow at 1 p.m. at IOOF (Parklawn) Cemetery, Threemile Road.
In lieu of flowers, donations may be made to Heart of Hospice, the Lymphoma and Leukemia Society or lung cancer research.