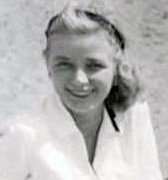 Nell Leion
unknown - February 3, 2010
Nell Leion, 89, passed away peacefully at Brookside Manor on Feb. 3, 2010, from natural causes. Nell was born in Detroit, Mich., in December 1920 and lived in that area for most of her life, except for a brief period during the mid-1940s when she moved to Los Angeles for work; and during her final three years, which she spent in Forest Grove and Hood River Ore.
Nell was the last survivor of seven siblings that included three brothers and three sisters, one of whom was Nell's fraternal twin. Nell's parents immigrated to the United States just after 1900 from Russia. Her father was a home builder and talented carpenter while her mother was a homemaker who could sew anything and grew enough vegetables to feed her entire family as well as many of the neighbors.
Nell was always close with her family and spoke fluent Russian with her parents. She was especially close with her twin sister, Olga, who lived just a few miles away from her until preceding Nell in death in 2007.
At that time, Nell's son Gregg moved her to Oregon to be close by and to receive assistance due to rapidly advancing dementia, which plagued her during her final years. Through it all, she maintained her dignity and was cheerful and enjoyable to visit; she forgot many things but never her many favorite songs from the 1940s and 50s. She sang often and joyfully.
Her connection with her son never left, even on her last day when she assured him that she was OK and he is forever grateful for the privilege of helping her during her time of need.
Nell worked as an office administrator and attended business college after high school and had a special aptitude for English and grammar. She was a talented stenographer and was able to take shorthand long after this vocation all but disappeared.
Nell was very happily married to William Leion shortly after he returned from infantry service with the U.S. Army in North Africa and Italy during World War II. Their son Gregg was born in 1957 and Nell became a full-time, devoted mother.
After her husband's untimely death from a sudden heart attack in 1968, Nell eventually returned to work, holding several administrative office jobs. Remarkably, Nell worked in her last job, for State Farm Insurance, for more than 15 years, until she was 85 years old!
Nell loved to cook and was famous among her family and friends for her creations which often included generous amounts of butter and cheese but were always balanced by an ever-present assortment of fresh fruits and vegetables.
Her family relished her special pierogis and would clamor for them often. She loved to shop for fresh produce at the local farmers markets and cooked special meals for her family without fail.
For years, she would typically spend her Saturday mornings gathering ingredients at the local markets, cooking all afternoon and delivering her food creations to nearby family on Sundays.
Nell was one of the most favorite aunts and great-aunts to her nieces and nephews, but her niece Amy especially enjoyed their shopping trips to downtown Detroit before that once-great city's decline.
Amy could count on Aunt Nell to purchase forbidden makeup and spend too much money on fun clothes at Saks Fifth Avenue. She loved fashion and style and wore her huge assortment of earrings and necklaces until nearly her last day.
Nell is survived by her son, Gregg Leion, and her granddaughter, Abbey Leion, of Hood River, as well as nephew Larry Dunne of Louisville, Colo., and nieces Maureen Moore and Amy Topper, of Michigan, Joy Raden, of White Plains, N.Y., and Bonnie Kanfer, of Atlanta, Ga.; and numerous grand-nieces and grand-nephews.
Her family would like to express deep gratitude to Heart of Hospice, the staff of Brookside Manor, and the Beehive Assisted Living facility in Forest Grove as well as to Maria Walton, of Detroit, for their immense support, care and compassion during Nell's last years and days. A private family memorial is planned.
Arrangements are under the direction of Gardner Funeral Home.