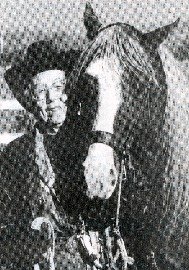 Edith M. Hartford
March 5, 1914 - December 28, 2009
Edith M. Hartford, a longtime Hood River resident, passed away Monday, Dec. 28, 2009, at Providence Hood River Memorial Hospital with family by her side.
For those whose lives were touched by Edith, a Mass of the Resurrection is planned for 10:30 a.m. Saturday, Jan. 9, at St. Mary's Catholic Church, 1501 Belmont Ave., Hood River, with a reception to follow. All are welcome to attend both.
Edith was born March 5, 1914, in Blackfoot, Idaho, to Frank and Veva (Galbrith) Loy.
Edith's education was cut short at the age of 12, as she was needed to work on the family farm. She was the oldest of six, and with that came many responsibilities not normally expected of someone so young. She worked in the field with grown men, leading a team of horses during the haying season, working from dawn to dusk.
Edith escaped the rigors of the farm by jumping on her horse, bareback, and riding in the countryside. She would explore hills and valleys, sometimes coming upon abandoned stills during the Prohibition.
Edith was most at-home on a horse. She was found at the age of 2 under a horse, unconscious. She had crawled on it and fallen off. Her close relationship with horses, as well as other animals, continued throughout her life.
Edith was married twice and had six children: Nadine McCoy, of Vancouver, Wash., Howard Hartford, of Holt, Mo., Daniel Hartford, of Lyle, Wash., Mary Davis, of Lewes, Del., Leo Hartford and Patrick Hartford, of Hood River.
During her married years, she was active as a homemaker and a baker. In Edith's later years, she moved to Hood River, where she lived with her son Patrick and his wife, Sue, and their daughter, Jillian. She raised and trained Tennessee Walking horses for 25 years.
Edith is survived and will be missed by her children; stepchildren Dr. Jim Hartford, of Portland, Ore., and Geri Cooney of Denver, Colo.; sisters Dorothy O'Brien, of Pocatello, Idaho, and Hazel Nickles, of Alpena, Mich.; and several grandchildren and great-grandchildren.
In addition to her parents and husbands, Edith was preceded in death by her son Leo and stepchildren John Hartford and Shirley Deiss.
Charitable contributions can be made in Edith's memory to Hospice of the Gorge, Providence Hood River Memorial Hospital Foundation, St. Mary's Catholic Church or PROD, and sent in care of Anderson's.
Arrangements are under the direction of Anderson's Tribute Center, 1401 Belmont Ave., Hood River, OR 97031; 541-386-1000. Please visit www.andersonstributecenter.com to sign the family guest book.