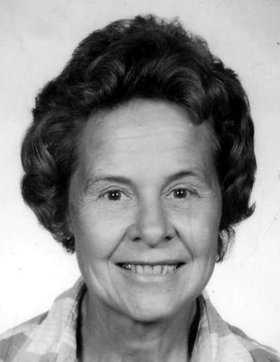 Kathryn Simmons Crippen
May 20, 1926 - July 14, 2010
Our cherished mother, Kathryn Simmons Crippen, age 84, passed away in Ann Arbor, Mich., on Wednesday, July 14, 2010, surrounded by her loving family. She was born Kathryn Mae Simmons in Romeo, Mich., (Bruce Twp.) to Matilda Coppersmith and John Morcomb Simmons on May 20, 1926.
Cassie had a happy childhood growing up in Detroit, Mich. She completed her bachelor's degree at Michigan State Normal College (now Eastern Michigan University) in home economics education. She taught for a couple of years at the Airport Public Schools in South Rockwood, Mich.
One summer, before finishing college, Cassie was working in Mackinaw City and met her husband-to-be, Edward Filmore Crippen, a medical school student at the University of Michigan. They married on June 19, 1948, in Ann Arbor, Mich. They eventually moved to Mancelona, Mich., where her husband practiced medicine. They had five children there.
Ed returned to graduate school in Ann Arbor in public health and then took on positions in public health and medicine. They were in Cap Haitien, Haiti, and Kathmandu, Nepal. Their sixth child, John, was born during that time.
While Ed followed a career in public health and medicine, Cassie followed along with the children. From there they moved to Mobile and Fairhope, Ala. Grosse Pointe Park, Mich., Carson City, Nev., Malibu, Calif., St. Helens, Ore., Hood River, Ore., Pusan, Korea, Hood River, Ore., Howell, Mich., back to Oregon and finally retiring to Mancelona, Mich., where they had originally started their family.
Cassie embraced each new place with enthusiasm, despite the difficulty of moving and settling in. She was a devoted and caring wife and mother. She was a friend and mentor. She gave of herself freely without care for herself. She had a generous, caring and vivacious personality and many, many friends. Everyone loved her and she is sorely missed.
She was preceded in death by her husband, Edward. F. Crippen, M.D.; her parents, and sisters, Evelyn Simmons and Marion Burke.
She is survived by her sister, Margaret Cooper, of Michigan; her children, Janie Knieper, of Michigan, Edward Crippen, of Oregon, Frederick Crippen, of Washington, Joel Crippen, of Florida, Ember Diez, of California, and John Crippen, of Washington; and their loving spouses and children (her precious grandchildren), cousins, nieces, nephews and many friends.
She has been cremated and a memorial service and burial will take place in Lansing, Mich., in July 2011. In lieu of flowers she would have wanted donations made to the Mancelona Historical Society, P.O. Box 103, Mancelona, MI 49659; the American Lung Association (http://www.lung-usa.org) or the United Methodist Church, Mancelona, MI 49659.