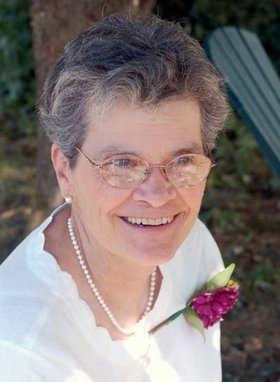 Margaret Daniels Smith
March 21, 1938 - July 5, 2010
Margaret Daniels Smith, 72, passed away at her home in Newberg, Ore., on July 5, 2010. Born in Hartford, Conn., on March 21, 1938, to Gibson and Olinda Peterson Daniels, in July 2009 she was diagnosed with acute myeloid leukemia.
Margaret grew up in Bridgeport, Conn., attended the Northfield School for Girls in Mount Hermon, Mass., and Yankton College, Yankton, S.D., earning a bachelor's degree in English in 1960.
She found her professional calling, teaching, while living in Illinois in the 1970s. She earned a teaching certificate through Lake Forest College, and worked in preschool and early childhood education for a number of years.
Margaret then earned a master's degree in special education from Chicago State University. She single-handedly moved her two young children from Chicago to southern California in 1976, where she became a special education teacher, and eventually department chair at Poway High School in Poway, Calif. She remained at Poway for 15 years, retiring in 1991.
Margaret married William A. Charland Jr. on June 25, 1960. They have two children, Susan Charland Burke, of Sherwood, Ore.,, and Jay Charland, of Salem, Ore. She married John D. Smith in San Diego, Calif., on May 29, 1979.
In addition to her husband and children, she is survived by son-in-law Tim Burke, daughter-in-law Carmel Charland; granddaughters Stephanie and Rachael Burke, step-grandchildren Olivia, Aaron and Elizabeth; brother Dr. David Daniels and his wife, Marci; and two nieces and four nephews.
In retirement her true vocation, grandmother, flowered. Devoted to Stephanie and Rachael, she knitted and sewed for them through their childhoods, and planned special activities for their frequent times together.
Margaret also discovered weaving, actively participating in weaving circles in White Salem, Hood River and Libby, Mont., where she spent several summers. She donated many fine works of weaving and knitting to local and international charities.
As a family we would like to thank all those who supported her, near and far. She was deeply touched by all the expressions of love and care. Her remarkable strength and determination, love of life and family and care for all will continue to be felt by those who knew her. She will be deeply missed.
We also would like to acknowledge the incredible care she received from Dr. Stacy Lewis and everyone at Providence Oncology & Hematology Care Clinic, the staff at the 5 West Oncology Ward at Portland's St. Vincent Hospital and Serenity Hospice. Thank you for being a part of her life.
At her request, no services will be held; her ashes will be scattered by her family in the tide pools at Otter Rock on the Oregon coast.