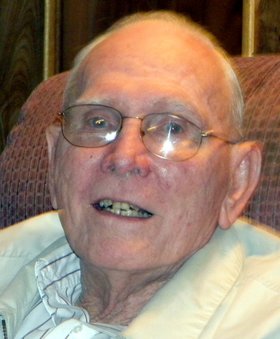 Jack Herman Green
September 13, 1925 - May 27, 2010
Jack Herman Green, aka "The Iron Man," made his final journey to his real home, Heaven, on Thursday, May 27, 2010, from his home in Mt. Hood, Ore., at the age of 84. He was surrounded by his wife, Guyneth, daughter, Cynthia, and son, Timothy, and a special longtime friend, David Jenkins, at his home-going.
Jack was born, at home, to Elmer and Priscilla Green, Morrison County, Mo., Sept. 13, 1925. He was one of six surviving children.
He was preceded in death by his parents, three brothers (Lewis, Melvin and Jerry Green) and survived by Virginia Goss and Bob Green.
His family, along with some other relatives, made its way to Oregon in the first motor home (a flatbed truck with a large room built on it) in the late summer/early fall of 1937. He attended several schools in Hood River Valley but went to the Mt Hood School until the eighth grade.
As with many during that time, Jack grew up and took responsibility at a very young age. He married Guyneth Pearl Crapper (age 15) at the age of 17 on Aug. 11, 1943. She has been the love of his life for 66 years, nine months.
Shortly after he married, he enlisted in the Navy and served in the American and Asiatic-Pacific Campaign, earning two stars and a World War II Victory Medal. He served on the USS Makassar Strait, an aircraft carrier in the Pacific.
Jack came back to the valley and started one of the first logging businesses in the valley with his dad, Elmer, and brothers Lewis and Melvin. After going broke three times they were finally successful in starting Green Brothers Logging Co.
They got smart and put their wives to work at AGA so that they could buy equipment. Green Brothers Logging started with a horse named Reno because it was said, "Logging was a gamble!"
They grew with the industry and at their peak they had five sides, towers, etc., and 130 employees. GBL had a special relationship with Sterling Hanel (Hanel Lumber Company) — built on character and trust and there was never a signed contract. Those were the days of your word and a hand shake.
He could run any of the many pieces of equipment but his favorite one was his HD 16. He worked a lot of men including his son, Tim Green, the Phelps brothers, Don, Glenn, David, Mike, Ed, Doug, Roger and Greg. They worked, hunted and played together for many wonderful years.
After losing his dad and brothers, he started Jack H. Green Logging Co. He took out his last stand of timber in 2005 at the age of 80. Until just recently, he insisted on receiving all of the Hood River County timber sale information. He loved the woods and all it had blessed him with.
At age 30 he made a decision to always put God first in his life. He has faithfully attended and given financial support to Mt. Hood Assembly of God (Valley Worship Center) and Hood River Assembly of God (River of Life Assembly) all these years.
He served on the deacon board at Mt Hood Assembly for about 40 years and led the youth group for many years. His favorite scripture passage was Isaiah 40:28-31.
Jack was also on the board of the Associated Oregon Loggers. He supported and was a member of the Lions Club in Parkdale.
He loved hunting and fishing with his family and friends. For 13 years in a row Jack, family and friends went moose hunting in Canada. One of his favorite places is Lost Lake. He never tired of the beauty of the lake and Mount Hood.
Jack is survived by his wife, Guyneth; daughter, Cynthia Phelps; son, Timothy Green; eight grandchildren: Brigette Sales, Brenda Bound, Jack Green (Little Jack), Jason Green, April Green, Nathan Phelps, Jodi Green and Matthew Green; and 23 great-grandchildren.
The Iron Man left behind a legacy of a life well-lived for himself and all others.
Services were held at the River of Life Assembly June 1 followed by graveside services. Rev. Terry Abbott and Rev. Wes Cronk officiated the service. Jack was given full military honors and the Patriot Guard was also present.
Arrangements are under the direction of Anderson's Tribute Center, 1401 Belmont Ave., Hood River, OR 97031; 541-386-1000; www.andersonstributecenter.com.