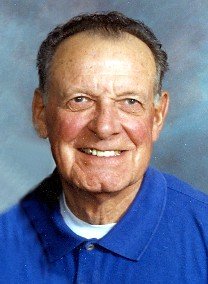 Elwood J. Hutson
January 4, 1921 - March 22, 2010
Elwood J. Hutson, 89, a lifelong Hood River, Ore., resident, passed away March 22, 2010, at Providence Hood River Memorial Hospital.
Services were held Friday, March 26, at Anderson's Tribute Center. Interment was at Idlewilde Cemetery.
Elwood was born Jan. 4, 1921, in Hood River, the youngest child of Lillian and John Hutson. He attended Barrett Elementary School, Laurelwood Academy, Linfield College and the University of Oregon Dental School.
He practiced dentistry in Hood River his entire career, starting in 1955 and retiring in 1986. He met his wife in high school at Laurelwood Academy in 1939.
They married after World War II in June 1946. He lived in the family home on Belmont Drive, most of his life; leaving for high school, World War II, college and dental school. This was the place he most loved to be. Sitting in their family room, looking out at Mount Hood.
Elwood loved his family and had the joy of living next door to his father, John; brother Leonard, (Speed), and close to his sister Esther, from The Dalles. He was known in the community as a member of the Lions Club.
Elwood was involved in the community "stop smoking" classes that were held around the valley for many years. He was also a driver for the "Caravan," taking seniors to appointments as needed.
He loved camping in his earlier years, and upon retirement, touring in a motor home with his wife and family. He enjoyed many vacations in the last few years going to Washington, D.C., Hawaii, Bend, Ore., and most recently, Palm Springs, Calif.
He is survived by his wife of 63 years, Berniece (Bunny); his brother Leonard (Speed) and his wife, Viola; daughter Karen and her husband, James; son Brad; son Don and his wife, Linda; and daughter Sandy. Elwood has five grandchildren, eight great-grandchildren and numerous nieces, nephews and their children.
He was preceded in death by three sisters before his birth; brother Harold; parents; son Steve; and sister Esther. He was loved by all his family, and loved greatly in return. There will be a large hole in our family; we will miss him forever.
The family suggests memorial contributions be sent to the Seventh-Day Adventist Church, in care of Anderson's Tribute Center (Funerals, Receptions, Cremations), 1401 Belmont Ave., Hood River, OR 97031. Please visit www.andersonstributecenter.com to leave a condolence for Elwood's family.