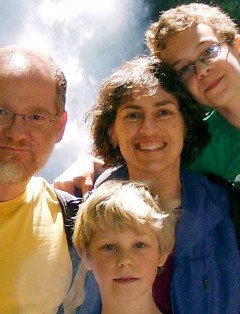 Beth Epstein-Danner
August 10, 1959 - March 17, 2010
Beth Epstein/Danner once admitted that she must feel more love and happiness in a single year than most feel their whole lives. When she died on March 17, 2010, she had experienced 50 lifetimes worth of joy.
Born Aug. 10, 1959, in Madison, Wis., she was raised in Ames, Iowa, along with her sister Emily, by their parents, Abraham and Doris Epstein. Growing up in a university town with liberal and well-educated parents, she was an early advocate for equal rights and the environment. Beth said that one of her few regrets in life were all the "obnoxious and sanctimonious" letters she wrote to her high school newspaper.
She refused to learn to drive until she was in college, preferring the simplicity and low impact of her bicycle. In her teens and early 20s, many people were under the mistaken impression that she was a vegetarian, "because I dressed like one."
Beth was a National Merit Scholar when she enrolled at Macalester College in St. Paul, Minn., graduating with the class of 1981. After college, she spent nearly two years in the South Pacific as a Peace Corps volunteer in the island kingdom of Tonga. It was then that her best friend and suitor, Craig Danner, traveled halfway around the world to be with her.
While hiking in the early morning near the top of a mountain on the tiny island of Euwa, Beth and Craig watched the sunrise. "Ask me now," she told him. Their engagement lasted six months, until they were married on Sept. 2, 1983, in Portland, Ore.
Their wedding ceremony was performed at the county courthouse just two hours after Beth completed an organic chemistry final exam. The couple bought flowers from a street vendor, and Craig and a friend had baked the wedding cake. Friends and family played volleyball at the reception. They spent $50 for a wedding that would keep them happily married for 27 years.
The quiet village life the couple experienced in Tonga had convinced them they would return to live overseas again, and Beth decided that becoming a doctor would be an excellent way to contribute to society wherever they went in the world. Beth and Craig spent four years in Baltimore, Md., where Beth received her MD from The Johns Hopkins School of Medicine, and Craig earned a degree as a physician assistant. In 1988 they moved west to Seattle, Wash., where Beth spent three years in the Swedish Hospital Family Medicine Residency program.
When her training was finished, the couple celebrated by selling their house, two cars and most all of their possessions, then went on a six-week bicycle tour from Oregon to Iowa.
Refreshed by that excellent adventure, they took their cross-country skis and traveled to India, where they spent a snowy winter running a remote hospital in the small town of Manali at 7,000 feet in the Indian Himalayas. After India, they traveled in Nepal and Indonesia before returning to Seattle in 1992.
In Seattle, Beth spent several years working as a family practice physician for The Country Doctor community clinic where she cared for a large number of patients suffering with HIV/AIDS. She also worked part-time at the Everett Clinic in Everett, Wash. In India, she discovered a gift for learning foreign languages, and Beth and Craig took several months-long trips to Mexico and Ecuador, volunteering in clinics and an orphanage while studying Spanish.
In 1997, Beth and her husband moved from Seattle to a 10-acre homestead in the tiny community of Dee, Ore., not far from where Craig's mother, grandparents, and great-grandparents lived in the 1920s and '30s. During the first several years, Beth practiced emergency medicine across the Columbia in White Salmon, Wash., and accepted the position of health officer for Hood River County.
In 2001, the couple worked together to publish Craig's first novel, based largely on their experiences at the hospital in India. Its success was due in large part to Beth's magnificent editing skills, as well as her charisma and enthusiasm as she helped promote and publicize the book.
That same year, Beth was diagnosed with a malignant tumor behind her left knee. She very stoically underwent two surgeries and six months of some of the most devastating chemotherapy available, from which it took another year for her to fully recover.
When she felt able to work again, she decided to focus exclusively on her public health career. It was work she loved dearly, an enthusiasm that led her to pursue a master's in public health from the University of Washington.
For several years she was the health officer for Hood River, Wasco, and Sherman counties, as well as the consulting physician for the Oregon State Office of Family Health. She loved being involved with programs that could help so many people all at once, and she adored working with colleagues who were equally caring and enthusiastic.
She was a founding member and early leader of Healthy Active Hood River County, a group promoting good health and fitness in the community. She was instrumental in coordinating all of Oregon's county health officers, allowing them to share their expertise and resources for the first time.
This past year, she very proudly helped guide a piece of legislation through the Oregon State legislature which will help significantly decrease the spread of sexually transmitted diseases by expediting treatments. It was a job that required enormous diplomacy between many governing boards, a talent of which she was particularly proud.
After five years of repeated scans and tests to watch for a return or spread of her leg cancer, her doctors declared that she had been cured and no longer need worry about a possible recurrence.
In the winter of 2007, while walking on a sunny Florida beach, Beth and Craig admitted to each other that they both had silent but lingering doubts about not having children. While the opportunity to have children the old fashioned way had passed, they decided to look into the adoption of an older child in need of a home.
Amazingly, nine months later they were the proud parents of not one, but two school-age boys, brothers Justin and Jonathan. As with everything she did, Beth threw herself wholeheartedly into motherhood and the joys and challenges of adopting older children. While the learning curve was steep, she was a natural and excellent parent as evidenced by her sons' rapid and remarkable bonding to their new mother and family.
Beth's second cancer was diagnosed in November 2008, a year after the adoption. Unrelated to her first cancer, this one was discovered after it had spread widely. An unusual and aggressive cancer, Beth fully understood that there were few treatment options and that none of them offered a chance for cure.
She was given one-to-two years, maybe more if she was lucky. She lived another 16 months. During that time, she tolerated the treatments well, and through the remarkable strength of her body and spirit, she was able to continue all her chosen roles as wife, mother, and physician, as well as daughter, sister, and good friend to many.
Beth wanted it stated in her obituary that both as a citizen and a public health officer, she was strongly committed to improving access to health care for everyone. She strongly supported any improvements to what she considered our "ridiculous and immoral" health care system, but believed that a single-payer system covering all citizens was a government responsibility.
She believed that the dissemination of existing health care resources was more important than the more profit-oriented efforts to develop new and more expensive forms of treatment, even when she considered the research being done on treatments for the cancers she suffered from.
When the third and final treatment option proved ineffective, she stopped work and began hospice care. While she knew that death was imminent and inevitable, she was not ready to die. She loved her life, her husband, her children, her family, friends and coworkers. She felt she got more love and happiness in a single year than most achieve in a lifetime, and a life that rich and good is not easily relinquished.
She died at home with her husband at her side, her cat at her feet, and loved ones close at hand.
A life memorial will be held on the afternoon of Saturday, May 22, at the family's property and former home in Dee, and all who knew Beth are invited.