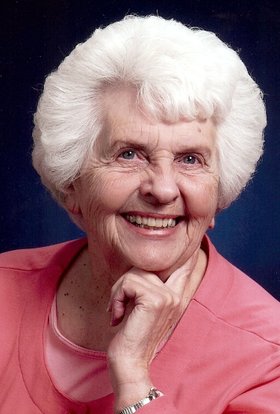 L. "Bonnie" Bonnell Jensen
January 16, 1927 - August 24, 2010
After a brief illness, "Bonnie" L. Bonnell Jensen died Aug. 24, 2010, at Legacy Meridian Park Hospital. She had 83 great years and made an impact on all who knew her.
The first of four children, Bonnie was born Jan. 16, 1927, to Frank and Jewel (Bishop) Stoops in Portland, Ore. They moved a number of times in the area, but she fondly remembered her time in Maplewood, attending grade school there and then later graduating from Tigard High School in 1944.
She married her high school sweetheart, Jack A. Jensen, that year on Dec. 27, before he departed and served on the USS Pine Island in the Pacific during World War II. She attended Lewis and Clark College in 1945.
She and Jack had three boys, Dave, Ron and Don, whom she raised with much love and kindness.
While being a great mother and homemaker, she also worked as a fruit packer in Hood River. Later she served as an office secretary for May Street Elementary and Hood River Junior High School.
She was an accomplished seamstress and piano player and thoroughly enjoyed singing. She loved the water and the Oregon coast, especially her summers at Camp Meriwether (BSA).
She was a former member of Eastern Star and school PTAs, was choir director at Cascade Locks Community Church and St. Mark's Episcopal Church in Hood River, and lately she enjoyed her time at St. James Episcopal Church in Tigard. She was actively involved with the Tigard High School class of '44 for more than 60 years.
After moving to King City 15 years ago, she joined different activity groups and served on their Landscape and Architectural Review Committee. She loved attending the special events of her children, grandchildren and great-grandchildren as often as she could. She enjoyed golf with Jack, particularly at historic St. Andrews.
She was an avid sports fan, cheering for her Trail Blazers and favorite golf or tennis player. But most of all she was a patriotic American, solid in her beliefs and a friend to all. She always had a quick, warm smile and was ready to help out in any way she could.
Preceding her in death were her parents, Frank and Jewel, her husband, Jack, and twin sisters, Ruby McCorkle and Ruth Queen.
Survivors include sister Corrine Goldman (Milt), sons L. David Jensen (Margaret de Haas van Dorsser), Ronald A. Jensen (Cynthia Poor Jensen), and Donald P. Jensen (Katherine Robertson Jensen); six grandchildren: Dan, Paul, Tim Zach, Maren and Erik, all Jensens; nine great-grandchildren and seven nieces and nephews and their families.
Services will be held at St. James Episcopal Church, in Tigard, Ore., on Sept. 25 beginning at 11 a.m.; reception following.
Please consider donations to: Cascade Locks Alumnae Scholarship Fund (through the Hood River County Education Foundation, www.hrcef.org or 541-386-3222), or St. James Episcopal Church of Tigard, Reverend, 503-639-3002.