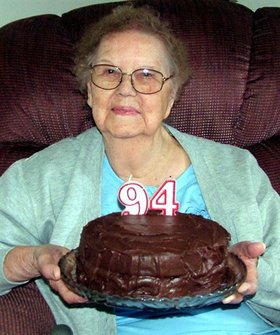 Zelma M. Cunningham
August 23, 1916 - April 6, 2011
Our mother, Zelma M. Cunningham, an Odell, Ore., resident, passed away April 6, 2011, of natural causes at the home of Jackie and Richard Shaw. She was 94 years of age.
Zelma was born Aug. 23, 1916, in Barnsdall, Okla., to Vernon and Stella Belle (Kline) Weston. Her father worked in the oil fields, driving a team of horses to lift rods out of wells.
In 1920, they moved to Wynadotte, Okla. Due to her mother's health, they moved to Mesa, Ariz., for a few years, then moved to Turkey Ford, Okla.
A young man named Alvie B. Cunningham caught her eye and soon they fell in love. As young adults, they separately moved to Oregon. They eventually married and lived most of their life in Hood River, Ore. Together, they built a house on Neal Creek Road in 1955. Zelma was able to remain there until five weeks before her death.
Zelma worked for a while in the overall factory during the war. Then she worked some odd jobs here and there, then worked and retired after several years from Diamond Fruit Growers as a fruit packer.
She was a very kind person in life; as her sisters' husbands passed away she would be their taxi driver to doctor or shopping. She loved doing things for family, friends and everyone. She could never say no to anything the grandchildren wanted her to do and loved playing with and baby-sitting them.
She was an amazing seamstress and loved to quilt and crochet. Zelma attended the Valley Worship Center in Mt. Hood for more than 60 years.
Zelma is survived by three children: Alvie Ray Cunningham and his wife, Dottie, of Redding, Calif., Glen Cunningham and his wife, Frankie, of The Dalles, Ore., and daughter Jackie Shaw and her husband, Richard, of Hood River; eight grandchildren: Mike Cunningham, Jane Cunningham, David Cunningham, Cindy Mayes, Pamela Sohler, Linda Phillips, Melissa Hayes and Kristen Shaw; seven great-grandchildren: Rachelle Sohler, Rebecca Phillips, Madison Hayes, Garrett and Angie Pursell and Scott and Travis Dodson; four great-great-grandchildren and many nieces and nephews.
Zelma was preceded in death by her parents; her husband, Alvie B.; four sisters: Ada Miller, Ida Belle Cunningham, Ruth Thomas and Goldie Shockley; and two brothers: Vernie Weston and Lawrence Weston. Zelma will be greatly missed by many people.
Services will be held at Anderson's Tribute Center on April 13 at 1 p.m., with burial to follow at the Pine Grove Butte Cemetery.
Memorial contributions may be made to Heart of Hospice in care of Anderson's.
Arrangements are under the direction of Anderson's Tribute Center (Funerals, Receptions, Cremations), 1401 Belmont Ave., Hood River, OR 97031; 541-386-1000. Please visit www.andersonstributecenter.com to leave a note of condolence for family.