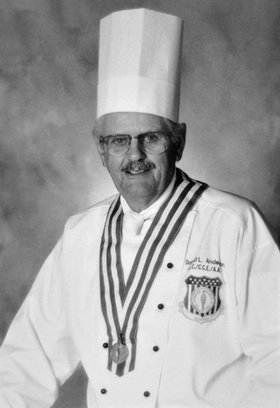 Darrell Anderson
April 27, 1929 - April 10, 2011
Darrell Anderson, of Puyallup, Wash., was born in Hood River, Ore., on April 27, 1929, to Pete and Ruth (Hutson) Anderson. He passed away in Tacoma, Wash., on April 10, 2011, from complications to kidney disease.
Darrell was raised on the Hutson homestead in Parkdale, Ore. He attended grade and high school in Parkdale. Later on he became a well-known chef in the United States. His name is in the Culinary Hall of Fame, alongside of Julia Child.
He leaves behind his wife, Catherine, and their four children and families, sisters Denzel Green and Doris Hill of Parkdale, special cousin Virgil Hutson and many relatives and friends.
He will be laid to rest April 23 in Lakewood, Wash.