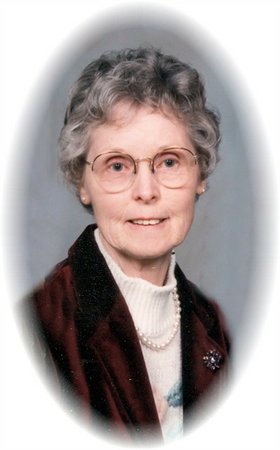 Carol Ann Clarke
June 21, 1933 - April 17, 2011
Carol Ann Clarke passed away on April 17, 2011, in Hood River, Ore., at the age of 77. She was born June 21, 1933, in Bend, Ore., to William Thomas and Rachel Faye (Clements) Craig to join her older brother, Randall, and sister, Jean.
Carol lived in Bend until 1943 when her family moved to Hood River when she was in the sixth grade. She attended Barrett School and graduated from Hood River High School in 1951. She went to work soon after at First National Bank as a bookkeeper and teller until 1957.
Carol knew her future husband, Richard "Dick" Clarke, as they both were in high school together but did not start going together until the summer of 1952. After a six-month courtship and a two-year delay while Dick served in the United States Army, they married on July 2, 1955.
They bought a small farmhouse with 5 acres on Orchard Road and set up home. During the next 13 years, three "little Clarkes" arrived: first, Tim in 1957, then Keith in 1958 and finally a daughter, Anita, in 1963. A growing family meant a bigger home so they moved across Orchard Road to a larger farmhouse and this was the Clarke home for the next 43 years.
Carol loved music, learning piano in grade school, French horn in high school and later in life playing her organ. She sewed many of the kids' clothes, stretching the family budget while leading 4-H and FFA groups. Her green thumb was evident by the way she kept her rose garden manicured.
Carol and Dick belonged to a dance club for several years, enjoying their time together and the many friends they collected along the way. She enjoyed traveling, mostly in the U.S.: Alaska, Hawaii, New England and Florida. Carol also liked flying with Dick in his small planes, if the weather was good.
This quiet, shy, petite loving lady will be greatly missed by everyone who knew her. She is survived by her husband of 55 years, Richard "Dick" Clarke of their Orchard Road home in Hood River; children Timothy Clarke and his wife, Lilo, of Hood River, Keith Clarke and his wife, Nancy, of Hood River, and Anita Sohler and her husband, Edward, of Crooked River Ranch, Ore.; sister Vera Owens, of Portland, Ore.; grandchildren Angela Wallis, of Seattle, Wash., Christopher Clarke, of Hood River, Stephanie Frank and her husband, Mike, of Hood River, Gregory Clarke, of Hood River, Katrina Sohler, of Bend, Vannie Moran, of Hood River, Caitlyn Sohler, of Crooked River, and Ryan Clarke, of Vancouver, Wash.; and four great-grandchildren; sisters-in-law, Lois Clarke, Vaughna Clarke, Rosalie Clarke and Lola Craig.
In addition to her parents Carol was preceded in death by her brother, Randall Craig, and sister Jean Bergerson.
Memorials are encouraged to either Hospice of the Gorge or to a charity of choice in memory of Carol.
Services are to honor and celebrate Carol's life as well as mourn her passing were held Monday, April 25, at Anderson's Tribute Center, followed by graveside rites at St. Mary's Cemetery.
Arrangements are under the direction of Anderson's Tribute Center (Funerals, Receptions, Cremations), 1401 Belmont Ave., Hood River, OR 97031; 541-386-1000. Please visit www.andersonstributecenter.com to leave a note of condolence for family.